Return to Headlines
Musical Creativity Alive and Well at MWHS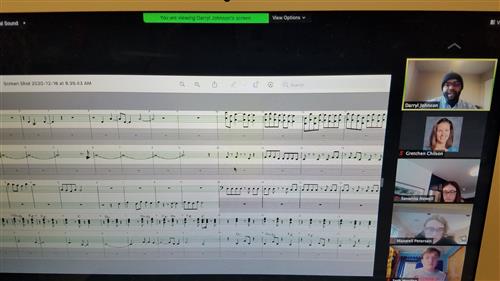 Click on the above image for more photos from the meetings with composers.
January 13, 2021 — Music directors at Mound Westonka High School continue to create outlets for their students' musical expression and creativity, despite being limited to distance learning.
Band Director Gretchen Chilson provided opportunities for her students to meet four different composers via Zoom. Over the past several weeks, Concert Band met Johnnie Vinson and Randall Standridge, Symphonic Band met Standridge and Darryl Johnson II, and Wind Ensemble chatted with Johnson and Carl Holmquist.
According to Chilson, these composers were a natural choice, since each band is preparing music by the composers they met. "So as we study their works, it has also been great to learn about the composers not just as professionals, but simply as people," Chilson explained.
In each case, students prepared questions to ask the composer. Questions ranged from inquiries about how one decides on music composition as a career path, to why a certain musical decision was made in the writing of a piece of music. Some students asked what advice the composer might have for high school students, along with personal questions about family and work/life balance.
"It has been an important part of our curriculum this year to reach beyond our community and our state," said Chilson. "In the past months, while we've all been primarily at home, it was wonderful to see students connect with professionals all over the United States and hear their perspectives on everything from music careers to social justice issues."
MWHS Choir Director Kelly Newell also created some unique opportunities for her students. The concert choir created two virtual choir experiences for the holidays.
Each of the choirs created a "Gift of Song" project where each student selected a loved one in their life who needed a pick-me-up. Once the student decided on the song and found a suitable backing track, he or she learned their piece and received peer coaching by another choir member, before recording it as a gift for their person of choice.
Some students took the project to the next level, adding photos, creating movies and writing their own piece. One student even had it professionally recorded in a studio.
"It was a beautiful way to end the semester while using creative outlets and multimedia to create music and to share it with the community," said Newell.
---