Return to Headlines
Westonka Names Building Teachers of the Year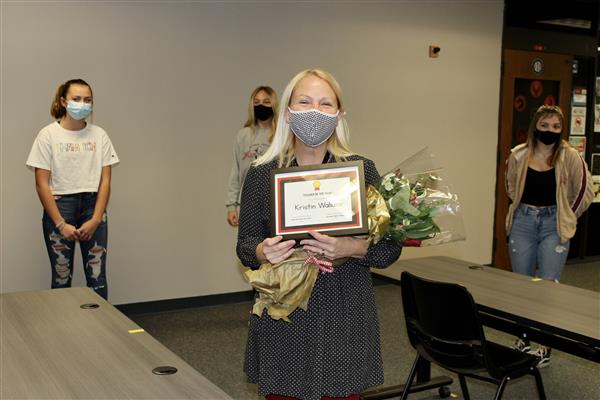 Mound Westonka High School English teacher Kristin Wallace was surprised Nov. 18 with the school's 2020-21 Teacher of the Year Award
Click the above image for more photos from the awards presentation
November 18, 2020 — Westonka Education Minnesota (WEM) surprised five Westonka Public Schools educators Wednesday morning with their respective schools' top teaching award. Congratulations to Westonka's 2020-2021 building Teachers of the Year: Calleigh Forcier from Westonka Early Learning, Chantelle Jordahl from Hilltop Primary School, Beth Hausladen from Shirley Hills Primary School, Aaron Thorpe from Grandview Middle School and Kristin Wallace from Mound Westonka High School.
WEM received a total of 337 Teacher of the Year nominations this fall from students, parents, staff and community members. Eighty-seven individual teachers received nominations, and teachers in each building had the difficult task of selecting one teacher to represent their school as Teacher of the Year. Criteria for the annual award includes impact on student learning, both in and out of the classroom; contributions to and improvement of the school community; and years of service in the profession, district and/or building.
Forcier, Jordahl, Hausladen, Thorpe and Wallace will represent the district in the Westonka Teacher of the Year and Minnesota Teacher of the Year competitions. Both of these honors will be announced in May 2021.
Read an excerpt from each candidate's nominations below.
Calleigh Forcier, preschool
Parent nomination: Ms. Calleigh is a phenomenal educator who loves all of her students! She's the first teacher to get down and play with our students or give a hug when needed! During distance learning, we could hear the sadness in her voice when she couldn't see our students! She is a gift to our early childhood program! Always willing to teach and go the extra mile to love our kids. Ms. Calleigh will forever be our first Westonka teacher and her love and passion for teaching truly ignited our kids' love for school! Calleigh is a gift to our community and a blessing to all our families!
Chantelle Jordahl, kindergarten
Student nomination: As my first ever teacher ever, I loved Mrs. Jordahl! She made my kindergarten experience the best, truly the most fun teacher I've ever had.
Beth Hausladen, kindergarten
Parent nomination: Beth went above and beyond to help our child have a successful first year of kindergarten. We were faced with both academic challenges and a global pandemic and she was there to make our student feel cared for and special. On our child's birthday, she visited our driveway for a socially distanced birthday greeting. Later in the year, as we contemplated possible kindergarten retention, she took the time and care to communicate the process in a way that felt genuine and compassionate. Knowing Beth was there to support our child (and us) through a somewhat challenging first year of school was comforting and deeply appreciated.
Aaron Thorpe, middle school language arts
Student nomination: Mr. Thorpe should be teacher of the year because I had him for 7th grade homeroom and LA, he is a pretty straight forward teacher, he is chill, nice and understandable about a lot of things. He is very funny, fun, awesome, amazing, and he made the end of the day for me the best day because he honestly had the most fun and the best class ever. If I were to say a whole speech about him I would be talking for a long time. He also gets to know the students personal life pretty well and he knows when to have lots of homework and when not to have a lot. I loved how every day in LA we would have circle time, where you would say hi and what you did the day before or what you're gonna do later that day or the weekend, and he would just take time out of his day to listen to everybody, and that is Mr. Thorpe.
Kristin Wallace, high school English
Staff nomination: Kristin is constantly on a path to problem solving and professional growth. I so admire her persistence in advocating for what is best for all of our students in terms of equity and their education/wellbeing. Her ability to self reflect and evaluate is really unique and should be used as a model for other teachers. Her honest and forward looking approach to everything should be celebrated—especially in 2020.
---