Return to Headlines
Performance Classes Take On Unique Challenges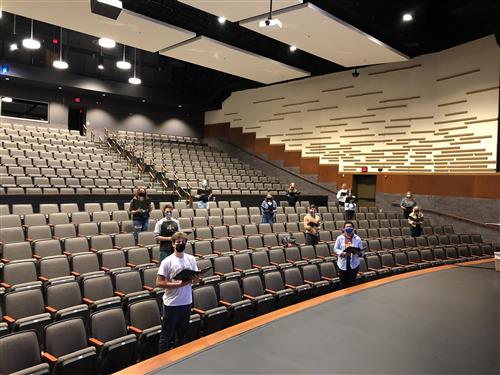 Click on the above image for more pictures from the band and choir classes.
October 1, 2020 — While every class and every teacher has had to make adjustments this year to keep everyone safe during the coronavirus pandemic, teachers in the performance music department at Mound Westonka High School face a unique set of challenges. Their classes are traditionally performance driven, but with only a portion of the class in attendance at any one time, rich four-part harmony and the balanced sound of a full band are non-existent this fall. Despite that, the choir and band groups are finding new ways for students to safely enjoy their music.
A variety of safety procedures and mitigation techniques have been employed for each musical group, including social distancing, shortened rehearsals, masks for singers and some instrumentalists, and no circle seating or rehearsals. The MWHS bands and choirs have been rehearsing in the Performing Arts Center (PAC), where there is more space, while band rehearsals have even been held outdoors when feasible. Instrument storage has been reconfigured, seats are assigned, instruments' bells are covered and music folders are not shared.
Safety guidelines mean the choirs sing with masks, 12 feet apart and for only 30 minutes in the PAC. The result of the restrictions is that the majority of the choral music education curriculum needed to be rewritten, according to choir director Kelly Newell. "I spent the summer researching, working with other choral directors and groups, and attending webinars to find curriculum that will meet the needs of our full-time distance learners and our hybrid learners," said Newell.
Band director Gretchen Chilson admitted that it's "frustrating" that the groups are split alphabetically, rather than by instrumentation, resulting in unbalanced representation, including one group that has only one trumpet. "In the end, though, the hope is that it will build independence in these players, and everyone will be more confident when we're all back together," said Chilson.
The bands have adopted a theme of "Bridge to the Community" this year, compiling a schedule of activities and ways they hope to reach out to the community, even though rehearsals and performances are far from normal this year. In choir, the focus has gone from building community through performance, to learning music for music's sake. The goal this year is to learn music that taps into the vast emotions that students have been experiencing since March of 2020.
"As a creative outlet, they will continue to process their own feelings through varied, quality repertoire," said Newell. "The goal is to express ourselves and find hope in the future through music."
Most honor bands and honor choirs have not officially canceled yet this year, but it's likely, while the annual Solo/Ensemble Contest is a "maybe." The only traditional performances tentatively planned are in May. "The challenge is to create non-traditional performance experiences that are still motivating and inspiring kids to play," said Chilson.
But for Chilson, the real challenge will come in a few weeks when Grandview Middle School fifth-graders begin playing. Awaiting instrument bell covers, beginning band students have been taught without instruments so far this year.
"Teaching beginners without being able to see their mouths will be very challenging," said Chilson. "Additionally, teaching beginners who are fully distanced at home will be tricky - band is such a 'hands-on' skill, that explaining how to create those first notes over zoom just isn't the same!"
Newell has employed an interactive music theory curriculum, a brand new ear training curriculum, and with the help of professional recording tracks, students are able to practice their music at home using their Chromebooks. Technology has provided an opportunity for students to continue singing at home and learning music.
"I am proud of my singers and we treasure our 30 minutes of singing in class," said Newell. "Music is needed in their lives and they do not take it for granted."
---