Return to Headlines
Student Senate Committed to School Pride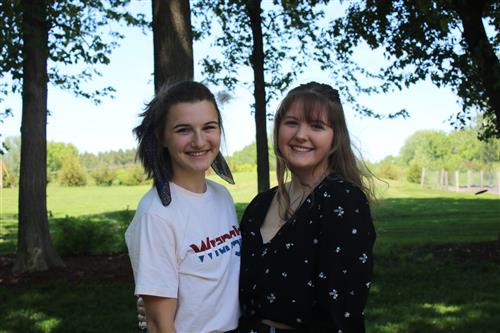 Student Senate co-presidents Claire Ficek and Amelia Pettitt.
Click on the above image for more photos of the Student Senate Retreat.
September 23, 2020 — Mound Westonka High School Student Senate has begun its work for the school year and is looking forward to creating school pride and spirit no matter what this year brings.
Last spring, 29 students were elected to the 2020-2021 Student Senate and six members were voted by their Senate to serve as officers. Along with this leadership team, another three will serve on the Executive Board alongside those officers.
In early August, Student Senate gathered for the annual leadership training. This year's theme was "Now Boarding; Leadership in Flight 2020." New leaders were welcomed by Senate Flight Attendants and took off in their seat assignments for a four-hour retreat to begin planning the 20-21 school year.
Student leaders talked over different approaches to on campus learning and digital learning, along with ways to bolster students' pride while facing the challenges that this year brings. They spent time brainstorming and developing ideas and working through how events might look this year.
The retreat ended with a first ever "Past Prez Panel" that consisted of five previous Senate presidents, including Ryann Beyer, Zach Riffle, Asha Martel, Alex Kline (joined virtually), and Connor Prok. The former officers had the opportunity to talk about leadership in college and how Senate prepared them for leadership roles after high school.
"It was so great to have our students back in the building, following some successful virtual events, but challenges as well last spring," said co-advisor Jamie Harms. "It was a really rewarding and motivating morning with our student leaders. We are excited to see what we can do to continue to raise the pride at MWHS!"
Following tradition, co-presidents Claire Ficek and Amelia Pettitt addressed the student body on the first two days of school, welcoming back students and staff.
For several years now, it has also become a tradition for Student Senate members to line the high school campus drive with flags to show tribute to September 11. Flags were placed thoughtfully on Wednesday to ensure the visual remembrance was able to be seen by both A and B students this year. Senate created a 9/11 remembrance video this year as well.
"Knowing most of our students were not even born when 9/11 happened, we feel it is even more essential now for MWHS students to learn about the importance of this day," said co-advisor and Delano firefighter Dale Kimball, who called the event one of his favorite Senate traditions. "Driving into school in the morning and seeing all the flags is a real sight to see for staff and students, and every year they always respect the day."