Return to Headlines
Erdahl Named National Merit Finalist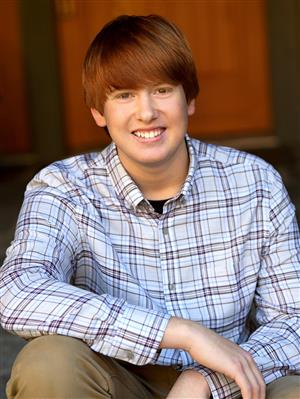 March 12, 2020 — Anders Erdahl, a Mound Westonka High School senior, has been named a finalist in the National Merit Scholarship Program (NMSC), an academic competition for recognition and college scholarships that began in 1955.
"I am incredibly excited and proud to have reached this level," said Erdahl. "It has taken a lot of hard work, but all in all, it mostly just took me doing what I love to do anyway—taking good classes, trying hard in them, and trying any activity that I can."
Erdahl was notified last September that he had earned semifinalist standing, placing him in the top 5 percent of the over 1.6 million students competing for the recognition. In order to be considered a finalist, Erdahl had to validate his PSAT score by taking the SAT and submitting a detailed scholarship application that included a comprehensive essay and information about his academic records, co-curricular activities, leadership abilities, honors, awards and employment.
"Anders is able to handle the demands of difficult academic classes along with a variety of extracurricular and leadership responsibilities with a quiet grace and confidence that is rare among people his age," said high school counselor Tina Kampa.
Teachers described Erdahl as a bright, ambitious, articulate and self-sufficient student, who is also ethical, compassionate and a friend to the friendless. "He is mature beyond his years," said one teacher.
Erdahl is captain of both the MWHS Speech Team and Math League. He also participates in debate and plays the clarinet in the pit orchestra. Erdahl is a member of the White Hawks tennis team. He was named an AP Scholar for his academic achievements and is a member of National Honor Society.
Anders, the son of Molly and Lars Erdahl, plans to attend a smaller liberal arts college.
High school students enter the NMSC by taking the Preliminary SAT/National Merit Scholarship Qualifying Test (PSAT/NMSQT®), which serves as an initial screen of approximately 1.6 million entrants each year, and by meeting published program entry and participation requirements.
---