Return to Headlines
Students Celebrate 'Music in our Schools'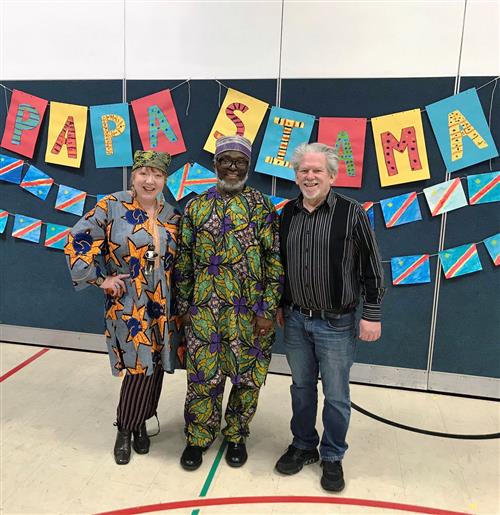 Click on the above image for more pictures from the musical events
March 12, 2020 — March is "Music in Our Schools" month and several Westonka classrooms were able to take advantage of Classical MPR's Class Notes program to provide some special music opportunities. The program at Classical MPR brings educational music performances to young and diverse audiences in Minnesota's schools, creating authentic and transformative live-music experiences. Each artist or ensemble is selected for outstanding musicianship and the ability to provide an excellent quality, standards-based presentation.
Mound Westonka High School
Under the leadership of Katie Condon from MPR, The Mirandola Ensemble and Kelly Newell, the MWHS Concert Choir had the opportunity to work with The Mirandola Ensemble on a four-part residency this winter.
The Mirandola Ensemble, featuring Jenny Ubl (soprano), Alyssa Anderson (mezzo-soprano) Nick Chalmers (tenor) and Matthew Culloton (bass), spent four Fridays in the choir classroom during January and February. During their residency, they sang Renaissance music for Concert Choir, conducted Concert Choir, led sectionals with each voice part, and sang alongside Concert Choir in preparation for Large Group Contest, where Concert Choir earned superior ratings by all three judges.
Students were asked to fill out a pre-survey and post-survey in regards to this experience. Questions pertained to the mechanics of singing, musical phrasing and historical elements and characteristics of singing Renaissance music.
"This experience was significant for our singers and the Mirandola Ensemble," said choir director Kelly Newell. "It is a rare occasion for our singers to work with and get to know professional choral singers. I am grateful for the relationships we have built with the Mirandola Ensemble and the heightened sense of ensemble our students gained through this experience."
Plans are already underway to collaborate on a future project together, she added.
Hilltop Primary School
Hilltop Primary School students took a delightful journey to rural Africa on March 5, with the music of Siama's Congo Roots Trio. Siama's Congo Roots sings songs in Kikongo, Lingala and Swahili, and introduces instruments from the Democratic Republic of the Congo.
Siama Matuzungidi leads the group with his wife, Dallas Johnson, and their friend Tim O'Keefe while they present stories and music from Siama's childhood in his rural African homeland. Each class got to spend an hour with the artists.
"This was the second year Hilltop has participated in the program," said music teacher Theresa Schmidt. "They come to us free of charge, which is an amazing gift."
Schmidt said the students were excited to meet Siama and treated him like a celebrity. "It was a joyous performance," she added. "We made memorable music!"
Shirley Hills Primary School
The Flying Form group came to Shirley Hills Primary School in December and put on three separate concerts for the second-, third- and fourth-grade classes. They entertained the students with songs from the Baroque time period. The kids loved seeing and hearing the harpsichord, baroque violin, baroque cello and viola da gamba.
Flying Forms, formed in 2005, is a baroque chamber music ensemble based in Saint Paul. Core members include Marc Levine, baroque violin, Tulio Rondón, baroque cello and viola da gamba, and Tami Morse, harpsichord. In Saint Paul, the group presents its own series of concerts each year at The Baroque Room, a performance space the group created in 2011.
"The kids loved hearing the music and getting up close to and trying out the harpsichord!" said music teacher Melissa Bray. "It was a cool experience for them."
---