Return to Headlines
Young Scientists Participate in Hilltop Fair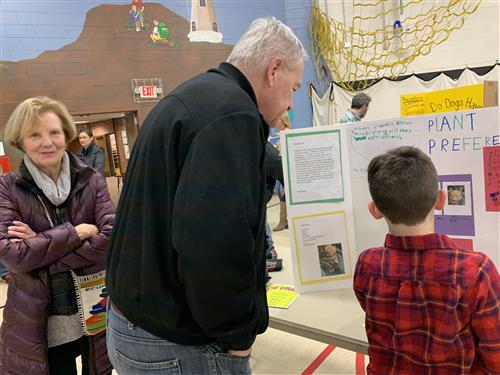 Click on the above image for more pictures from the Hilltop Science Fair
February 13, 2020 — The 2020 Hilltop Science Fair was filled with excitement and bursting with creative minds eager to share. More than 60 young scientists entered projects for the Feb. 6 event, which included everything from bees to composting to explosive chemistry.
"I was pleasantly surprised with how many projects had very meaningful, important and impactful ideas," said fourth-grade math and science teacher Craig Schmidt. "The importance of protecting our resources and saving our planet was well represented."
Emphasis was placed on using the scientific method to ask a question or solve a problem, propose a hypothesis, and then prove or disprove their idea with a conclusion. Everyone who participated received a colorful certificate and an awesome ribbon.
"The future scientists did an outstanding job of presenting their hypothesis, describing how they went about their discoveries and revealing what they learned along the way," said Schmidt.
The judges, consisting of high school AP biology students and Hilltop teachers, had a difficult time choosing the winners. Projects that included models, interactive pieces, and projects that included pictures, numbers or data, and clearly defined worded explanations were some of the judges' favorites.
In addition to the Science Fair, Hilltop hosted a spaghetti dinner that night and the building was full of excited Hilltop students the whole night. "It was a great success!" added Schmidt.
The winners were:
Kindergarten – Isiah Doty, Lenna Syndergaard and Auda Sena Maas
First-Grade – Avery Runke, Easton Barrett and Edison Strong
Second-Grade – Ben Kromenhoek, Carter Savstrom and Michael Dittrich
Third-Grade – Aaron Doty, Ari Bryan and Louisa Johnson
Fourth-Grade – Frank Oko, Joseph Puskarich and Amelia Holmberg
Overall Science Fair Champions were Isla Ness for her project on "How Well Do You Wash Your Hands?" in the K-2 Pod and Sallie Embery-Hesse for her study on "Waters of the World (WOW)" in the 3-4 Pod.
---