Return to Headlines
Hanson, Nobs Earn Triple 'A' Award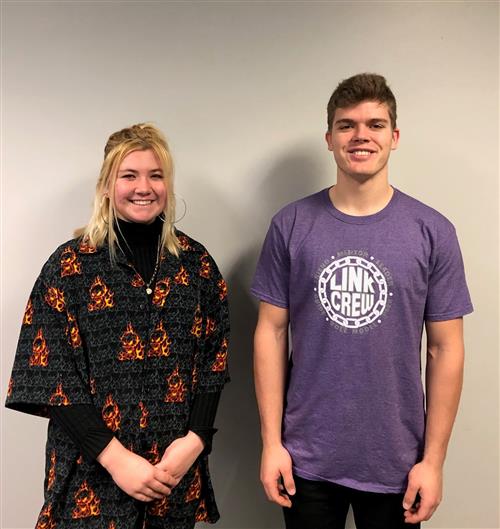 Grace Hanson and Adam Nobs
January 9, 2019 — Seniors Grace Hanson and Adam Nobs will represent Mound Westonka High School at the regional Triple "A" Award banquet. An on-court recognition ceremony for the state-wide winners will be held in conjunction with the boys' state basketball tournament in March. Sponsored by the Minnesota State High School League (MSHSL), the Triple "A" Award—Academics, Arts and Athletics—is a unique recognition program designed exclusively for Minnesota high school seniors who have excelled in the classroom, on the athletic field and in the fine arts.
Grace Hanson is a four-year member of the Concert Choir and serves as president and section leader this year. She has competed in solo/ensemble and large group contests, earning Best of Site awards for her participation in Madd Jazz.
An AP artist, Hanson received Scholastic and Congressional art awards, as well as first- and third-place ribbons in the school's juried art show last fall. Hanson is also a member of the speech and debate teams, where she was a state participant and captain her sophomore year. She is a DECA officer and a math league participant as well.
Hanson takes a rigorous course load and maintains a 3.98 grade point average. She has taken a variety of AP classes as early as her sophomore year and successfully completed Postsecondary Enrollment Options (PSEO) classes at the University of Minnesota. She is also a member of National Honor Society.
A three-sport athlete, Hanson participates on the swim, Nordic ski, and track and field teams. She was named All Conference in swimming and just missed a trip to the state tournament this year by one second.
Hanson says her involvement in activities, athletics and academics has improved her in countless ways and provided the place, community and experiences to allow for self-reflection. "Each of these activities has taught me that I am not just one thing," she said. "In fact, I have learned that my interdisciplinary nature is something that I wouldn't trade for the world."
History teacher Alan Hiebert wrote a letter of recommendation for Hanson. "Grace is focused, disciplined, inquisitive and demanding of herself," he said. "She has proven her willingness to challenge herself throughout her career.
Hanson plans to major in computer science next year but is undecided on her college. She does plan to participate in swim, speech, choir and art wherever she goes. Grace is the daughter of Mindy Hanson of Minnetrista.
Adam Nobs is an accomplished musician and a four-year member of the auditioned Wind Ensemble, as well as a solo/ensemble contest participant. He is also a four-year member of the Jazz Band and serves as section leader this year.
Nobs excels on the football field, where he has earned All District honorable mention and numerous MVP awards. He was also named to the Academic All-State team. Nobs is also a member of the hockey team and serves as captain this season. As a sophomore, Nobs participated on the track and field team.
Nobs maintains a 3.91 grade point average and has been on the "A" honor roll every semester of his high school career. In addition to several AP courses and an advanced course load, Nobs also participates in the College in School (CIS) program.
"Taking on a course load as extensive as mine has allowed me to spend my high school years perfecting my time management skills," said Nobs. "Additionally, taking on the sports, activities and challenging courses that I have has taught me the importance of preparation."
Head Football Coach Nick David nominated Nobs for the award. "Adam is one of those rare individuals who have made the internal decision to excel – his organizational skills and attention to detail are unparalleled," he said. "The responsibility he has already been given as a team leader speaks to his passion and enthusiasm.
Nobs plans to major in engineering, but is undecided on the college. He does plan to play hockey at the college of his choice. Adam is the son of Kristin and Bryan Nobs of Minnetrista.
About the Triple 'A' Award
Triple "A" Award recipients are selected through a multi-level process that involves member schools of the MSHSL, the League's administrative regions, and a special committee of educators, business leaders and members of the fine arts and athletics communities. Every member school of the League is invited to nominate one girl and one boy for the Triple "A" Award. Nominees must be seniors in high school, have a cumulative GPA of 3.0 or higher, participate in MSHSL fine arts and/or athletic activities, and comply with the MSHSL Student Code of Conduct.
---