Return to Headlines
Busy Week for MWHS Pep Band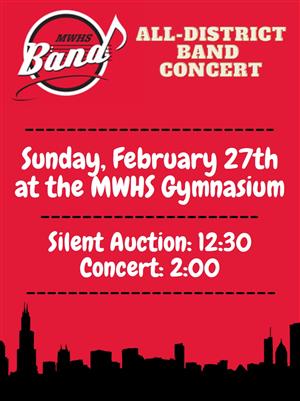 Click on the above image for more photos from the band concert
October 31, 2019 — The Mound Westonka High School Pep Band was busy this week, performing both a benefit concert and the traditional Halloween concerts.
The band collected nearly $600, plus some canned goods, for Western Communities Action Network (WeCAN) at a benefit concert Oct. 28 in the Westonka Performing Arts Center (PAC). The concert included new pop music and pep band favorites.
WeCAN Executive Director Christopher Anderson thanked the crowd and explained how the funds would be used to help Westonka neighbors in need.
Band director Gretchen Chilson highlighted the efforts of drum majors Olivia Gable, Jake Robertson, Connor Prok and Jack Witte. "A highlight of this concert is that I don't conduct as our drum majors do the actual conducting -- their leadership was wonderful!" she said.
These students do so much to support the athletic programs, that this is a nice night to focus just on their efforts as the main event and not just the halftime entertainment, Chilson added.
Halloween Concerts
Fully costumed for Halloween, members of the MWHS Wind Ensemble performed a series of short Halloween concerts on Oct. 31 at Grandview Middle School and at Shirley Hills and Hilltop primary schools. They also visited Lake Minnetonka Shores, where they performed for a slightly older crowd.
"The day demonstrated how music can help us connect to all ages, as we reached audiences with a 90-year age range," said Chilson.
The ensemble played a variety of spooky soundtracks, while each instrument group also performed a small group selection, which provided a demonstration of each instrument. While the annual mini-concerts are fun for all, they also provide a great opportunity to share music with younger students and encourage their participation in band. Each group of musicians was enthusiastically greeted by the younger students.
"This local Halloween tour has become such an important part of our band program," said Chilson. "Many MWHS band students credit this concert with inspiring them to start on a particular instrument, or to be in band at all. The opportunity to have our experienced students perform for our younger students is so special, and we're fortunate to be welcomed into the other buildings each year to continue this tradition."
Chilson likes to see the primary teachers interact with the band students who used to be in their classrooms. She said the students also have fun visiting the halls of their former schools.
"It's so rewarding to see how well the band is received," Chilson added. "Our staff and students are so appreciative, and there's nothing better than seeing the joy the band brings to residents at Lake Minnetonka Shores."
---