Return to Headlines
Kris Couser Named October Winner of Westonka Way Award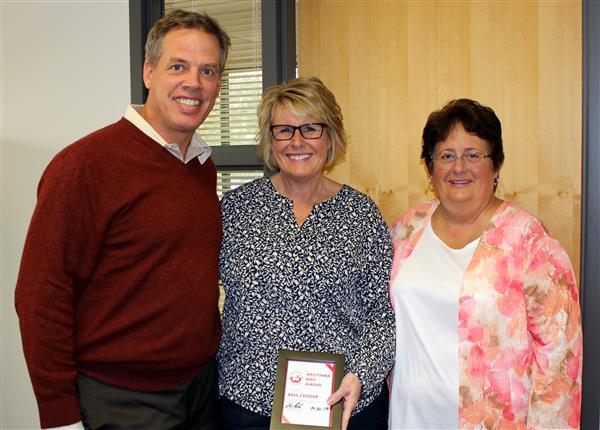 October Westonka Way Award winner Kris Couser (center) with Westonka Superintendent Kevin Borg and Westonka Executive Assistant for Human Resources Carol Pomeroy
October 30, 2019 — Westonka Administrative Support Specialist for Human Resources Kris Couser has been named the October 2019 recipient of the Westonka Way Award. The monthly award celebrates non-licensed Westonka Schools staff members who go above and beyond for families, students and other staff — because that's the Westonka Way!
Couser has worked for Westonka Public Schools in various capacities since 2007, first as a computer lab paraprofessional at Shirley Hills Primary School and then as a confidential office assistant in the district administration building. She took on a new role in human resources in 2018 and also supports the business services department.
"Kris Couser makes life easier and does every task with joy," wrote a nominator. "There are some people who truly enjoy their jobs, and Kris is one of them. She tackles any task, large or small, as though it is her privilege to assist and makes you feel valued. This is the Westonka Way!"
Another nominator wrote of Couser: "Fiscal year end audit details and payroll deadlines are challenging yet critical. I know that she has been putting in a lot of extra time, going above and beyond the call of duty, and this has truly helped the business department survive this crazy time. We are so fortunate to have a 'go-getter' like her on our team."
On Wednesday morning, Westonka Superintendent Kevin Borg and Westonka Executive Assistant for Human Resources Carol Pomeroy presented Couser with a special plaque and two gift certificates for the Al & Alma's Signature Sunday Brunch Cruise on Lake Minnetonka.
This was the first Westonka Way Award presentation of the 2019-2020 school year. To nominate a non-licensed employee for the award, please use the Google Form.
---