Return to Headlines
MWHS Opens Free Store for Students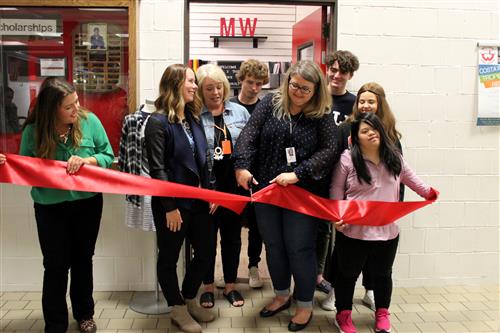 Friends of Mound Westonka High School board member Jennifer Velarde cuts a ceremonial ribbon to mark the opening of the Hawk Vault resource room
Click the above image to see more photos
October 10, 2019 — A group of parent volunteers, staff and students gathered near the Mound Westonka High School cafeteria Thursday afternoon to celebrate the school's new "Hawk Vault" resource room. In the weeks since it opened at the start of the school year, the repurposed storage space has become a refuge for teens in need of anything from a Homecoming dress to a pair of gym shoes to a stick of deodorant.
School resource rooms are becoming a popular option for students to collect useful items without stigmatizing those who walk in. The concept is simple: students can take whatever they want free of charge, no questions asked.
The idea for the Hawk Vault came after parent Jennifer Velarde noticed a number of gifts meant for students in MWHS guidance counselor Ann Baumann's office. The pair began brainstorming other ways to serve teens in the community. After hearing about a resource room in another metro area school district, they decided to bring the idea to MWHS.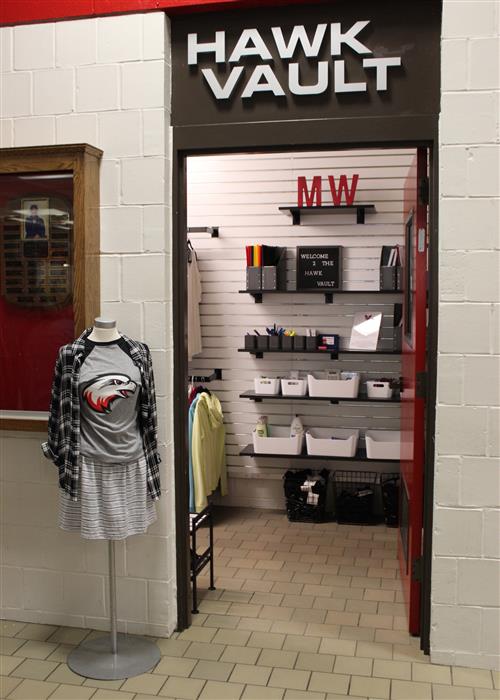 "It was just an idea from the Friends of MWHS parent group six or seven months ago, and they've turned it into a reality," said Principal Mark McIlmoyle at the formal ribbon cutting ceremony Oct. 10. "It's been really terrific to see."
The construction of the Hawk Vault was funded by the Friends of MWHS, with generous donations of materials and labor by Tom Halloran of Greiner Construction. Over the summer, a musty storage room that previously held theater props and sets was transformed into a bright, welcoming and well-organized store.
The Hawk Vault is open to students from the start of each school day to around 4:30 p.m. The room is continuously being restocked with donations of clothes, shoes, school supplies, backpacks, personal hygiene products, water bottles and more, available to any student who needs them.
"We are successfully breaking down the stigma that this space is for a certain type of student," said McIlmoyle. "We want this space to serve ALL kids, and it's doing that well."
The response to student needs thus far has been remarkable, according to Velarde. Friends of MWHS sent out a request for one pair of size 9 or 9.5 women's tennis shoes at 4 p.m. on a Monday. By 8 a.m. Tuesday, the student had two pairs of shoes to try on.
Joining Velarde and Tom Halloran at the ribbon cutting ceremony were Friends of MWHS members Rachelle Nordstrom, Angela Alvig, Kathleen Halloran and Candace Carlson, along with their children. McIlmoyle, Baumann, MWHS teacher John Wardlow and Westonka Superintendent Kevin Borg were also on hand for the celebration.
"I've done a lot of volunteering with Westonka Schools, and this is probably the most proud I have been," said Velarde. "Thank you, everyone, for all that you've done to make it happen."
Donations for the Hawk Vault can be dropped off at the MWHS front office during regular office hours. Follow the Friends of Mound Westonka High School on Facebook to see what items are most needed.
---