Return to Headlines
There's Nothing Quite Like Westonka Homecoming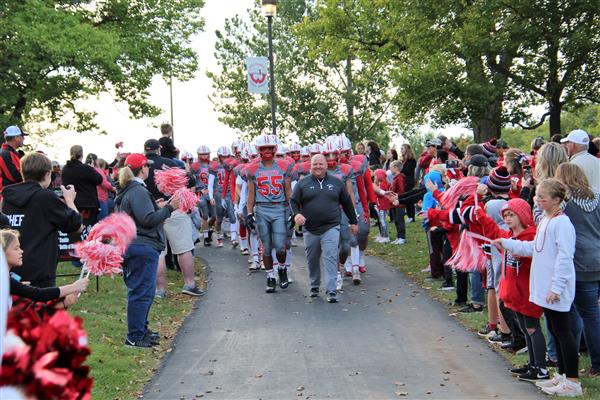 Head coach Nick David leads the White Hawks football team into Haddorff Field on Homecoming, Sept. 27
Click the above image for more photos from Homecoming Week by Westonka staff and parents
October 3, 2019 — In the Westonka School District, homecoming is something special. On top of preparing for the big game, White Hawks football players spend Homecoming Week reading to primary school students and presenting letters and jerseys to influential teachers. Westonka students of years past gather each year for an alumni breakfast and even join the pep fest at their alma mater. Musicians wielding everything from brass instruments to wastebasket drums and kazoos perform with pride in the annual homecoming parade.
From the coronation of Homecoming Queen Melissa Drill and King Ryan Fitz on Monday to the Mound Westonka High School homecoming dance on Saturday night, enthusiastic crowds and events designed for the entire community contributed to an exciting 2019 Homecoming Week. Westonka's athletic teams hosted neighboring schools throughout the week, and students took part in daily dress-up days and other activities.
Friday was a day to remember, as students of all ages wore their White Hawks apparel and participated in the parade and pre-game festivities. The energy in the schools and community brought everyone together to truly capture the spirit of homecoming.
"Homecoming means more than kings, queens and football," said MWHS Student Senate advisor Jamie Harms. "Homecoming means tradition, community and spirit."
Student Senate members and advisors Harms and Dale Kimball contributed many hours to make Homecoming Week memorable for all. "Every moment of homecoming was carefully thought-out and planned by the students of our Senate," said Harms. "They spent time, starting in early August, executing plans for coronation, pep fests and the parade."
Senior Connor Prok, Student Senate president, called Homecoming Week "a huge success." "We had tons of energy, excitement and school pride all throughout the week," said Prok. "The best part of the week was Friday's activities, including the pep fest, parade/carnival and, of course, the exciting win that night at the football game."
"We can't thank the Westonka community and families enough for their support and participation in our events last week," said Harms. "Thank you for showing pride in our schools and students - we are White Hawks and we fly together!"
---