Return to Headlines
Shirley Hills Debuts New Outdoor Classroom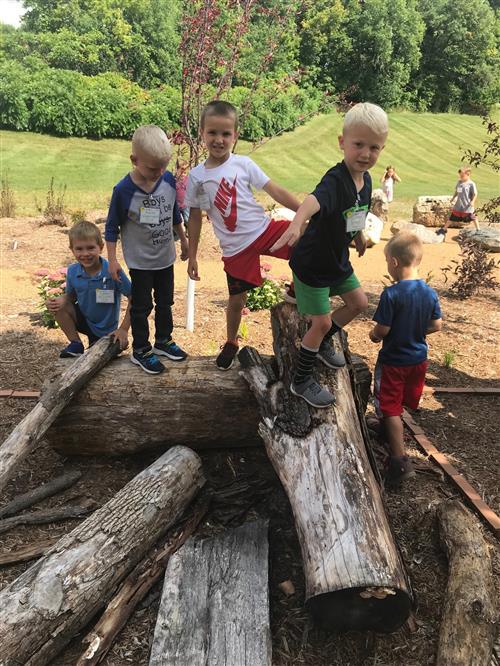 Click on the above image for more pictures of the outdoor classroom by Shirley Hills staff
September 11, 2019 — An overgrown flower garden behind the Shirley Hills Primary School media center has new life as an outdoor classroom, thanks to the collective efforts of the school's PTA, Shirley Hills staff, funding from the Westonka 277 Foundation and a partnership with Three Rivers Park District.
"This classroom will extend our learning space at Shirley Hills while fostering an interest in science and nature," said Principal Scott Eidsness. "There are many benefits to learning outdoors and we are eager to provide our children with a fun new environment that will enhance their hands-on learning experiences."
To get the ball rolling, the Shirley Hills PTA agreed to take a look at what could be done with this space to change it into an outdoor student learning center, according to Eidsness. At the same time, the school partnered with Three Rivers Park District and arranged to have an environmentalist come out to the school every week to connect outdoor learning experiences, thanks to significant funding from the PTA.
To bring this outdoor classroom to fruition, the school contacted several local landscape companies. Ryan Fox from Superior Landscape listened to school staff and PTA members and created a space that reflected Shirley Hills' collective hopes and dreams for this outdoor experience.
The outdoor space includes several learning spaces including erosion, geology and decomposition experiences. Native flowers, plants and grasses support student learning around pollination, the butterfly life cycle and plants grown from seed. Additional learning space features natural benches and patio block to support student presentation and group work.
"Ryan and Superior Landscape have been fantastic to work with!" said Eidsness. Superior has also agreed to work with the school to maintain the space so it can be utilized for many more years to come.
"Without the support of our PTA we never would have had this opportunity to bring these experiences to the children and families at Shirley Hills," Eidsness added.
---