Return to Headlines
Sandy Opdahl Named March Winner of Westonka Way Award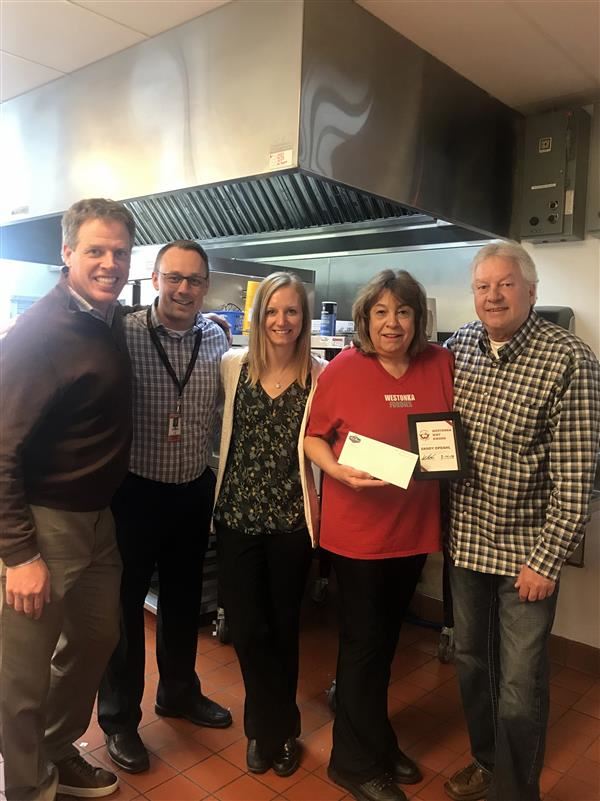 Pictured, from left: Westonka Superintendent Kevin Borg, Shirley Hills Primary School Principal Scott Eidsness, Westonka Food & Nutrition Services Director Laura Metzger, Westonka Way Award winner Sandy Opdahl and Gary Opdahl
March 14, 2019 — Shirley Hills Primary School head cook Sandy Opdahl has been named the March 2019 recipient of the Westonka Way Award. New this school year, the award celebrates non-licensed Westonka Schools staff members who go above and beyond for families, students and other staff — because that's the Westonka Way!
Opdahl has worked for the Westonka School District for 25 years in the same kitchen. She has proven herself to be a devoted Westonka employee with the utmost respect for the district and her job.
A nominator wrote of Opdahl, "After 25 years, I can honestly say that she is the queen of Shirley Hills' kitchen; she knows the ins/outs of her job and could probably get things done in her sleep."
Opdahl shares her love for everyone through the food she serves on a daily basis. Shirley Hills students have given her the nickname "Chef Sandy" and routinely thank her on the way out of the cafeteria in unison. Take a walk through the Shirley Hills kitchen and cafeteria, and you will see student-created cards and signs thanking Opdahl for her meals.
"There is no greater contribution to a workplace than making people feel like they are worthwhile," the nominator added. "Sandy has a way of opening up herself to others to share pure joy, to lend an ear during a heartbreaking time, or to laugh until you cry about a funny memory.
On Thursday afternoon, Westonka Superintendent Kevin Borg, Shirley Hills Principal Scott Eidsness and Food & Nutrition Services Director Laura Metzger presented Opdahl with a special plaque and two gift certificates for the Al & Alma's Signature Sunday Brunch Cruise on Lake Minnetonka. Sandy's husband, Gary, was also there for the surprise.
The Westonka Way Award will be presented monthly. To nominate an employee for the award, please use the Google Form.
---