Return to Headlines
Four Generations of Halvarsons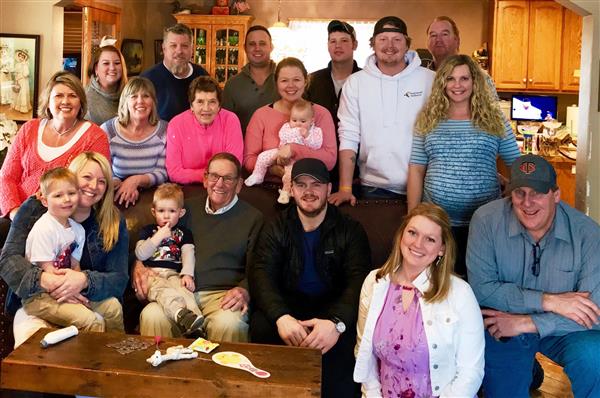 The Halvarson Family is now raising a fourth generation in the Westonka Public Schools.
May 23, 2018 — Dick Halvarson began a 35-year teaching career in the Westonka Schools at Grandview Junior High in 1959. He and his wife, Helen, remained in the community and raised their children, and saw their children and grandchildren graduate from Mound Westonka High School and stay here and begin raising the fourth generation. In addition to teaching, Dick coached football and hockey in Westonka for many years, which may be why there are so many multi-sport athletes and Yost and Athena winners among Dick and Helen's children and grandchildren!
The Halvarsons' three children are Sue Halvarson Grady, Mound Westonka High School Class of 1978 (her husband, Dan, is a member of the Class of 1974); Rich, Class of 1979; and Jim, Class of 1980. All three were multi-sport athletes and Jim earned several all-conference and all-metro honors at MWHS and was the Yost Award winner in 1980. He is now the phy ed teacher at Shirley Hills, and has taught in the district for 29 years and coached for 30 years.
Sue and Dan raised three children in the community – Erin, MWHS Class of 2001; Kelli, Class of 2003; and Danny, Class of 2006, along with his wife, Amanda Grundmier Grady. All were multi-sport athletes and Erin was the Athena Award winner in 2001. Kelli was also a Pop Singer. Erin and her husband, Brent Knutson, and Danny and Amanda are also still living in the Westonka area and between them have four small children who will be coming to Westonka Schools and expect to graduate from MWHS in the 2030s! Rich and his wife, DeAnn, also raised their two daughters in Westonka. Gina, Class of 2008, was class president and captain of the dance team. Emily, Class of 2012, was the Athena winner her senior year, lettering in four sports and captaining soccer and hockey. Although Jim's son, Jake, did not graduate from MWHS, Dick and Helen are equally proud of his athletic achievements including captaining the 2015 Eden Prairie High School State Champion football team in 2015.
The Westonka Community has many long-time residents and families who have lived here for generations. As we continue to celebrate the Centennial of our consolidated school district, we would like to highlight more of our three and four (or more) generation families that may include former and current students and staff. Please send a photo or photos of groups of family members or individuals, along with your information, to Carol Shukle, shuklec@westonka.k12.mn.us.
---