Return to Headlines
Corey Bulman Named Finalist for Minnesota Teacher of the Year
April 12, 2017 — Mound Westonka High School teacher Corey Bulman got a call from Education Minnesota last Friday, letting him know that he is a finalist for the state's top teaching award.
Eleven finalists were chosen from an initial field of 132 exceptional candidates for 2017 Minnesota Teacher of the Year. Westonka was fortunate to have three candidates in addition to Bulman this year: Jean Ann Thayer, Lori Knauf and Cyndi Loewen.
An independent selection panel of 23 leaders in the areas of education, business, government and non-profits selected the finalists from a group of 37 semifinalists. The selection panel meets again May 6 to conduct individual interviews with each of the 11 finalists and to cast votes for Teacher of the Year.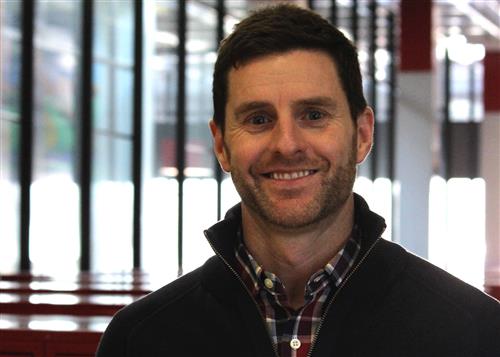 Bulman is in his 17th year of teaching English at MWHS. During his tenure at the high school, he helped establish and elevate the Advanced Placement and Honors English curricula. He has served as an advisor for Student Senate, National Honor Society and Link Crew and has directed six theatrical productions at MWHS. Bulman has also been a leader in classroom technology integration and an invaluable mentor within the English department.
In the letter of recommendation she wrote to the Minnesota Teacher of the Year Award committee, MWHS English and fine arts teacher Kate Schilling described Bulman as one of the greatest influences on her career as a young educator.
"Watching Corey in the classroom is a master class in instruction," Schilling wrote. "He seamlessly blends historical context, hilarious anecdotes, subject expertise, and curated music to design engaging learning experiences."
"He creates curriculum with the sophistication and nuance that students normally only encounter in the college classroom, and his former students regularly return to share how well-prepared they are for university life and learning," Schilling added.
Keith Randklev, former MWHS principal who retired in 2015, wrote in his recommendation letter, "Corey Bulman is the finest classroom teacher I have had the privilege of working with, and I cannot imagine a Minnesota teacher who more exemplifies and models what we want and expect of a Minnesota Teacher of the Year."
Bulman's colleagues agree that what truly sets him apart is his passion for the interpersonal relationship and his humble devotion to shaping the lives of his students. "Corey leaves an indelible mark on young people in the Westonka community as he guides them through the transition to adulthood with class, reflection, compassion and wit," Schilling wrote.
Randklev wrote of Bulman, "His superior knowledge of the English curriculum and his high expectations of student performance and behavior are surpassed only by his ability to connect everything within the academic world to the students' reality."
Perhaps Bulman's greatest gift is his ability to create meaningful connections with students, especially during the trying and difficult moments they inevitably experience in their high school years.
As Randklev described, each and every time students endure loss, Bulman "will cast aside lesson plans, test dates, writing assignment due dates, and his own personal plans to address, support, empathize, and guide students through those intensely emotional moments."
"That unconditional love and acceptance of our students and families takes tremendous courage, compassion and leadership," Randklev wrote. "I know of no teacher in my 36 years of teaching and administrative experience who does this critical work better than Corey Bulman."
The 2017 Minnesota Teacher of the Year will be announced at a banquet May 7 at the Radisson Blu Mall of America in Bloomington. Banquet tickets can be purchased on the Education Minnesota website. Westonka Schools will recognize the 2017 Westonka Teacher of the Year and Ann Bremer White Hawks Award winners at the all-Westonka staff workshop on May 5.
View the full list of finalists for 2017 Minnesota Teacher of the Year
---