Westonka Teacher of the Year
Return to Headlines
Hausladen Named 2021 Westonka Teacher of the Year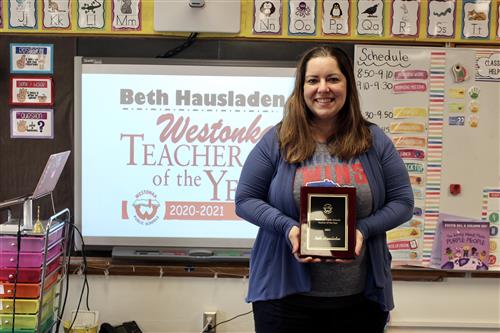 May 3, 2021 — Westonka Public Schools Superintendent Kevin Borg and an enthusiastic group of teachers and staff surprised Shirley Hills Primary School kindergarten teacher Beth Hausladen at school April 30 with the 2021 Westonka Teacher of the Year Award.
The district's top teaching award has previously been announced at the Westonka Staff Recognition Banquet in May, but that celebration was canceled again this year due to restrictions on large gatherings during the coronavirus pandemic. Representing each of the district's school buildings, the 2021 Westonka Teacher of the Year candidates were nominated by their colleagues for their exceptional commitment to student learning. Hausladen's fellow nominees were Calleigh Forcier from Westonka Early Learning, Chantelle Jordahl from Hilltop Primary School, Aaron Thorpe from Grandview Middle School and Kristin Wallace from Mound Westonka High School.
Hausladen, Forcier, Thorpe and Wallace were also among the 75 candidates for 2021 Minnesota Teacher of the Year, and Hauslanden was one of only 25 educators to be named a Minnesota Teacher of the Year semifinalist.
[Read more about the 2020-2021 building teachers of the year]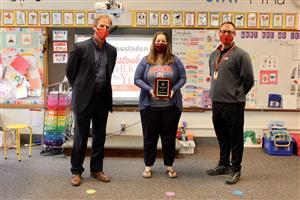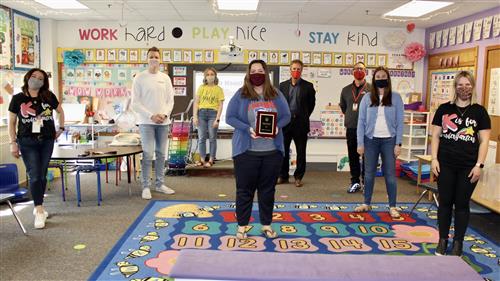 Pictured, above left, from left: Westonka Superintendent Kevin Borg, 2021 Westonka Teacher of the Year Beth Hausladen and Shirley Hills Primary School Principal Scott Eidsness. Above right: The Shirley Hills kindergarten team planned a surprise party for Hausladen at school on April 30 that featured a touching video for the teacher of the year.
Hausladen came to Westonka Schools in 2017 after previously teaching in the Brooklyn Center Community Schools and in Arcadia, Florida. During her years of teaching, she has discovered that "the keystone of education" is the development of relationships between students, their families, and teachers.
"The umbrella of education extends beyond the classroom," Hausladen said. "It is in the child's home, at their church, at their sporting events, at Cub Scouts, at the grocery store, etc. … I went into this profession to not only teach children, but to form a relationship with them and to let them know that they can trust me."
"I love [my students] when they are in kindergarten and I love them every year after when I see them in the hallways of my school," Hausladen added. "They are not just mine for a year, they are mine for a lifetime."
Westonka staff, students and families agree that what makes Hausladen special is the extra effort she puts in each day and her impact that stretches well beyond school walls. Shirley Hills Principal Scott Eidsness wrote:
The 'normal' year for Mrs. Hausladen means lots of in-home visits, attending dance recitals, concerts, youth sporting events and, when needed, gift baskets full of living essentials, groceries for families or equipment kids needed to participate in the above activities ... Additionally, within the school day you will be hard pressed to find a better taught, organized and loving classroom than Mrs. Hausladen's kindergarten room. Mrs. Hausladen works hard and loves hard every minute of every day...and so do her students.
"I'm so proud of what you do for our students, for our staff at Shirley Hills, and also our entire district," Superintendent Borg told Hausladen. "Your professionalism, effort and how you work continuously to make our district a better place is so appreciated. Congratulations!"
---