Ann Bremer White Hawks Award
Return to Headlines
Westonka Names Teacher of the Year, Honors District Volunteers
May 2, 2019 — During an evening ceremony May 1 at the Lafayette Club, Grandview Middle School teacher Dr. Deb Castner was named 2019 Westonka Public Schools Teacher of the Year. Also recognized were this year's building teachers of the year, as well as the recipients of the Ann Bremer White Hawks Award for community service, Lynne Robertson and John and Judy Lewman.
Traditionally given out on the May teacher workshop day (now a regular school day due to winter weather cancellations), the annual awards were presented this year in conjunction with the Westonka Retiree and Years of Service Banquet.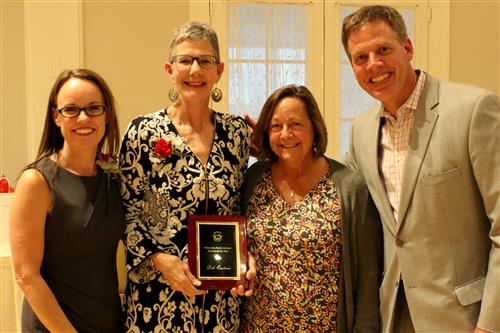 Pictured, from left: Grandview Middle School Principal Christy Zachow, 2019 Westonka Teacher of the Year Deb Castner, Special Services Director Meredith Boo and Superintendent Kevin Borg
Castner Named Teacher of the Year
Representing each of the district's school buildings, the 2019 Westonka Teacher of the Year candidates were nominated by their colleagues for their exceptional commitment to student learning. Annie Brockopp from Westonka Early Learning, Scott Lhotka from Shirley Hills Primary School, Theresa Schmidt from Hilltop Primary School and Laura Hensley from Mound Westonka High School were honored along with Castner. The five teachers were also among the 168 candidates for 2019 Minnesota Teacher of the Year.
[Read more about the 2019 building teachers of the year]
Grandview Middle School Principal Christy Zachow said that Castner "is in a class of her own" among special education teachers because "her impact extends far beyond the walls of the school and the hours in the school day." Zachow gave examples of Castner going well above her job description to support students who are struggling. "Over the years, this has meant driving kids to appointments, doing home visits, helping students get presents for their parents or helping parents find resources to pay for basic needs (to name a few)," Zachow said.
Castner was also honored last fall with the Brother Julius Winkler Adjunct Faculty Recognition Award from Saint Mary's University of Minnesota. The award acknowledges Castner's sustained excellence in teaching in the Schools of Graduate and Professional Programs at the university.

Pictured, from left: Scott Bremer, Paige Kimball and Ann Bremer White Hawks Award winners John Lewman, Judy Lewman and Lynne Robertson
Lewmans, Robertson Honored for Service to Westonka Schools
A selection committee made up of Westonka School Board and staff/community members selected John and Judy Lewman and Lynne Robertson as the 2019 recipients of the Ann Bremer White Hawks Award. The purpose of the annual community award is to recognize exceptional service to Westonka Schools.
The award, which began in 2015, is named in honor of the late Ann Bremer, Westonka School Board member from 2004 to 2017, whose record of service as a district parent, community member and on the school board characterizes the contributions made by the award nominees. Bremer passed away in February 2017 after a courageous two-year battle with pancreatic cancer. Superintendent Kevin Borg told the audience that the award epitomizes Bremer's spirit and her commitment to public education. There to hand out this year's awards were Ann's husband, Scott, and their daughter Paige Kimball.
The three community members selected this year are leaders in positively impacting the lives and experiences of Westonka students and their families and advancing the mission and vision of the school district.
The Lewmans have been volunteering in second grade at Hilltop Primary School for nine years. Westonka School Board member Ralph Harrison noted that their attendance has been stellar, and they have worked with students on reading fluency and on a wide variety of other projects. The Lewmans also open up their farm to the second-graders each year for a field trip.
"They come in every Wednesday with smiles on their faces," nominator Mara Drill said of the Lewmans. "The biggest contributions they have made to Hilltop are the connections they have made with students." In addition to their volunteer work at Hilltop, the Lewmans also support Mound Westonka High School graduates each year through the Spring Creek Scholarship for Arts & Humanities.
At the banquet, school board member Heidi Marty thanked Robertson for helping the district's brand match its outstanding academics. Over the past several years, Robertson—a proud Westonka alumna and parent—has provided pro bono marketing and communications advice and services to the school district.
As CEO and owner of Fame Retail Agency, Robertson has enlisted her team to help the district with a great number of projects. This includes, but is not limited to, the creation of various logos, a comprehensive brand style guide and templates for a wide range of marketing and print materials. Marty said that Robertson's work has helped the district's communications make an impact with its consistent, thoughtful design.
[Read more about the 2019 Ann Bremer White Hawks Award winners]
---