Ann Bremer White Hawks Award
Return to Headlines
District Names Teacher of the Year, Presents Community Service Awards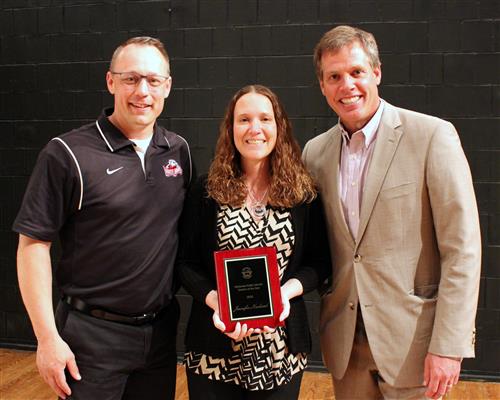 2018 Westonka Teacher of the Year Jennifer Naslund (center) with Shirley Hills Primary School Principal Scott Eidsness and Superintendent Kevin Borg
Click the above image for more photos of the May 4 Teacher of the Year and Ann Bremer White Hawks Awards Ceremony
May 4, 2018 — A crowd of Westonka staff, school board members and community supporters gathered in the Mound Westonka High School Little Theater on May 4 to see Shirley Hills Primary School teacher Jennifer Naslund be named 2018 Westonka Public Schools Teacher of the Year. Also recognized at the morning ceremony were this year's building teachers of the year, as well as the recipients of the Ann Bremer White Hawks Award for community service, Jeff Fish and Scott Brown.
Naslund Named Teacher of the Year
Representing each of the district's school buildings, the 2018 Westonka Teacher of the Year candidates were nominated by their colleagues for their exceptional commitment to student learning. June Heather Carver from Westonka Early Learning, Kim Collins from Hilltop Primary School, Katie Rutledge from Grandview Middle School and Lisa Paul from Mound Westonka High School were honored along with Naslund. The five teachers were also among the 167 candidates for 2018 Minnesota Teacher of the Year.
In addition to receiving the Westonka Teacher of the Year Award, Naslund was named one of only 43 semifinalists for Minnesota Teacher of the Year in February. She was recognized at an awards ceremony May 6 at the Radisson Blu Mall of America in Bloomington.
Shirley Hills Principal Scott Eidsness called Naslund "the living embodiment of 'no child left behind.'" "There is no chance that a kid leaves her classroom behind on any area," Eidsness said. "She has a dogged determination to just work and help kids get to where they need to go."
In a video produced by MWHS seniors Caitlin Balk and Molly Schoephoerster, the audience got an inside look at the Teacher of the Year nominees.

Pictured (from left): School board members Loren Davis and Brian Carlson, Scott Brown, Paige Bremer, Scott Bremer, Jeff Fish, Kevin Borg and school board member Ralph Harrison.
Fish, Brown Honored for Service to Westonka Schools
A selection committee made up of Westonka School Board and staff/community members selected Fish and Brown as the 2018 recipients of the Ann Bremer White Hawks Award. The purpose of the annual community award is to recognize exceptional service to Westonka Schools.
The award, which began in 2015, is named in honor of the late Ann Bremer, Westonka School Board member from 2004 to 2017, whose record of service as a district parent, community member and on the school board characterizes the contributions made by the award nominees. Bremer passed away in February 2017 after a courageous two-year battle with pancreatic cancer. Superintendent Kevin Borg told the audience that the award epitomizes Bremer's spirit and her commitment to public education. There to hand out this year's awards were Ann's daughter Paige and husband, Scott.
The two community members selected this year are leaders in positively impacting the lives and experiences of Westonka students and their families and advancing the mission and vision of the school district. Fish was recognized for his wide breadth of service to Westonka, which includes volunteer work in the arts, athletics and academics. "It's no wonder that you raised two 'Triple A' sons because you're clearly a 'Triple A Dad,'" Borg said of Fish.
Brown, who had three children graduate from MWHS, was honored for 29 years of service to the Westonka Schools community. His work has included volunteering with several referendum campaigns, providing strategic counsel to three different superintendents and, most recently, planning and visioning for the new Westonka Performing Arts Center.
The audience watched a video detailing the award recipients' records of community service.
---