Ann Bremer White Hawks Award
Return to Headlines
District Presents Ann Bremer White Hawks Awards, Names Teacher of the Year
May 11, 2017 — In front of a crowd of Westonka staff, school board members and community members gathered in the Mound Westonka High School Little Theater on May 5, MWHS English teacher Corey Bulman was named 2017 Westonka Public Schools Teacher of the Year. Also recognized at the morning ceremony were this year's building teachers of the year, as well as the recipients of the Ann Bremer White Hawks Award for community service, Robert Moulton, Jennifer Velarde and Howard Leopold.
Bulman Named Teacher of the Year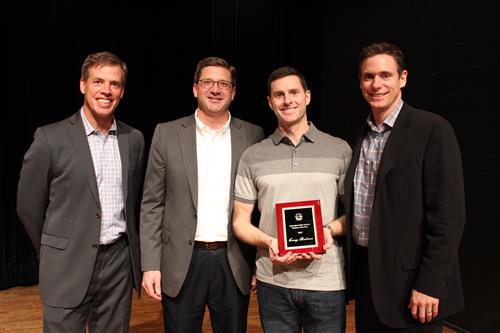 Westonka Superintendent Kevin Borg, MWHS Assistant Principal Marty Fischer, 2017 Westonka Teacher of the Year Corey Bulman and MWHS Principal Mark McIlmoyle
Representing each of the district's school buildings, the 2017 Westonka Teacher of the Year candidates were nominated by their colleagues for their exceptional commitment to student learning. Grandview Middle School guidance counselor Jean Ann Thayer, Shirley Hills Primary School teacher Lori Knauf and Hilltop Primary School teacher Cyndi Loewen were recognized along with Bulman.
The four teachers were also among the 132 candidates for 2017 Minnesota Teacher of the Year, a title that went to Bulman on May 7.
"I'm really not that big of a deal," Bulman told the audience while accepting the 2017 Westonka Teacher of the Year Award, which was given to him by a committee of administrators and staff. "I am in awe of the people I get to work with every day at Mound Westonka High School. You make me better, so thank you."
In a video by MWHS senior Grant Sterne (shown below), the audience got an inside look at the Teacher of the Year nominees.
Moulton, Velarde, Leopold Honored for Service to Westonka Schools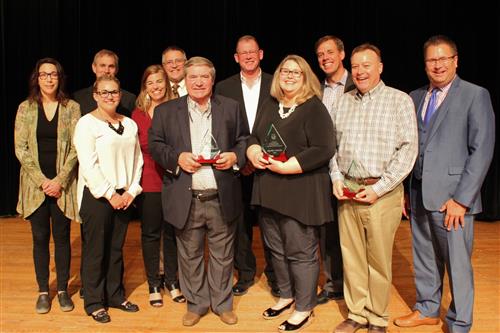 Pictured (from left) school board member Heidi Marty, Paige Bremer, school board members Ralph Harrison, Kelle Bowe and Loren Davis, Ann Bremer White Hawks Award winner Howard Leopold, school board member Gary Wollner, Ann Bremer White Hawks Award winner Jennifer Velarde, Superintendent Kevin Borg, Ann Bremer White Hawks Award winner Robert Moulton and Scott Bremer
Click the above image to view more photos of the awards ceremony
A selection committee made up of Westonka School Board and staff/community members selected Moulton, Velarde and Leopold as the 2017 recipients of the Ann Bremer White Hawks Award. The purpose of the annual community award is to recognize exceptional service to the Westonka Schools community.
The award, which began in 2015, is named in honor of the late Ann Bremer, Westonka School Board member from 2004 to 2017, whose record of service as a district parent, community member and on the school board characterizes the contributions made by the award nominees. Bremer passed away in February after a courageous two-year battle with pancreatic cancer.
At the beginning of the May 5 awards ceremony, Superintendent Kevin Borg spoke to why the award epitomizes Bremer's spirit and her commitment to public education.
"In education, we have hard work; it's stressful work, it's emotional work," Borg said. "Sometimes we feel like all doors are closed and not one is opening up. But the guidepost that [Ann] gave me is, truthfully, all that is excuses. There's a way to persevere. Because Ann found out that she just had a couple more months, and she had still time to give."
Borg continued, "Why is this named the Ann Bremer White Hawks Award? It is because Ann, with her last days, gave everything she could to her family and to all of you because she knew she could make a difference."
The three community members selected this year are leaders in positively impacting the lives and experiences of Westonka students and their families and advancing the mission and vision of the school district. Moulton was recognized for volunteering for nearly a decade with the MWHS photography program, and Velarde was honored for leading various fundraising efforts to support Westonka students and staff. Leopold, a long-time wrestling coach, was honored for his mentorship and support of student-athletes in the district.
A video by Sterne (shown below), highlights these contributions.
---