Return to Headlines
Students Will 'Stuff the Bus' for Food Shelf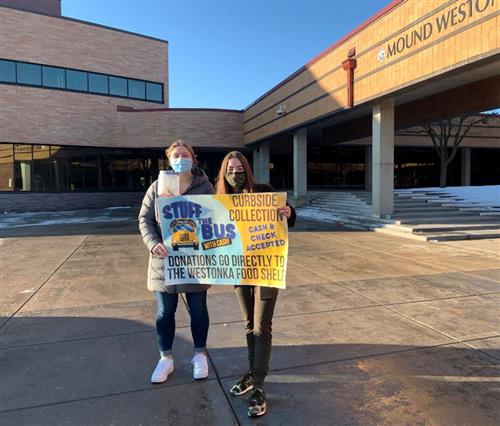 MWHS students are conducting a curbside collection as part of their effort
March 4, 2021 — Throughout the Westonka School District, students are collecting food and funds for the Westonka Food Shelf in preparation for the annual Stuff the Bus event in March.
Led by Student Senate, Mound Westonka High School students have set a lofty goal of collecting $3,000 to surpass last year's donation to the food shelf of $2,581. Thanks to generous donations for the event, some pretty awesome incentives are available to students and staff who donate to the cause.
Raffle tickets will be available during all lunches through Wednesday, March 10. Tickets are $1 each but higher donations result in a greater number of tickets: $5 for 6, $10 for 12 and $20 for 30 tickets. Donors can place their ticket in the raffle bucket of their choice to win some great prizes!
The drawing for winners will happen during the school day on Thursday, March 11. The total amount of funds raised for the Westonka Food Shelf will also be announced that morning. The Westonka Food Shelf will then use the money raised to purchase specific items that will fulfill the needs of families in our community.
Student Senate and Westonka DECA will be available Wednesday, March 10, both before and after school to collect cash and checks from parents during drop off and pick up times at MWHS. Parents are encouraged to look for students and their buckets and help the school reach its goal. The only catch to curbside collection is that raffle tickets will not be available. Raffle tickets are only available during lunch collection times.
New this year, MWHS families can complete a Google Form for online donations. You will be linked in the form to the Westonka Food Shelf Venmo account to complete your payment. Be sure to mark MWHS in the Venmo memo.
Grandview Middle School students are collecting money and food for the drive. The food shelf organizers are offering a prize for the morning meeting with the top collection. Student council members made posters to promote the drive. The school also used lots of fun facts about the Westonka Food Shelf to make a Kahoot game for students to help them learn about the impact the food shelf has in the community and how they can help out with their efforts.
All Westonka students and families are encouraged to participate in this annual event to help feed local families in need. Monetary donations will be gladly accepted via Venmo @westonkafoodshelf. Please make your donation by Thursday, March 11 and specify the classroom and/or school you would like to receive credit for your donation.
---