Return to Headlines
Sally Wulf Named December Winner of Westonka Way Award
December 22, 2020 — Westonka Public Schools Special Services Administrative Assistant Sally Wulf has been named the December 2020 recipient of the Westonka Way Award. The monthly award celebrates non-licensed Westonka Public Schools staff members who go above and beyond for families, students and other staff—because that's the Westonka Way!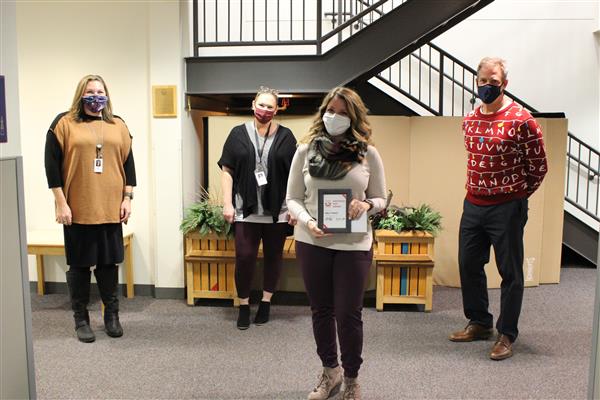 Wulf joined the district in her current role in 2015. A nominator wrote of Wulf: "Sally goes above and beyond job expectations daily. She does this with cheer, a positive attitude, and respect for all. Sally is efficient and multitasks the myriad responsibilities in the special services department with grace and dignity. She is always looking for ways to improve our required accountability systems, making it easier for our staff to meet requirements and spend more time with students. Win, win."

"Professional, positive, strong work ethic, efficient, goes above and beyond for our students and our district. That is Sally Wulf," the nominator added.

Another nominator wrote: "Sally is not only a dedicated staff member but a dedicated community member; she demonstrates this through participation in community events, advocating for the district and for the special services department and continuously seeks effective and efficient ways to perform her responsibilities … Sally is a go-to, knowledgeable, creative and a huge support(er) for Westonka staff, students and the community."
On Monday morning, with social distancing in mind, Westonka Superintendent Kevin Borg, Special Services Director Emily Rustman and presented Wulf with a special plaque and two gift certificates for the Al & Alma's Signature Sunday Brunch Cruise on Lake Minnetonka.
The Westonka Way Award will be presented monthly throughout the school year. To nominate a non-licensed employee for the award, please use the Google Form.
---