Return to Headlines
MWHS Hosts WCC Honor Music Festival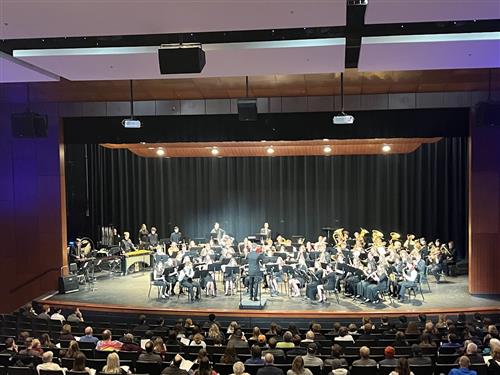 Click on the above image for more photos from the WCC Honor Music Festival.
January 11, 2023 — Mound Westonka High School was proud to host the 10th Annual Wright County Conference (WCC) Honor Band and Honor Choir Festival on Jan. 7. About 160 students from 13 school districts were selected for the event, which featured some of the top music students in the conference.
"It has been an honor to host this music festival the past two years," said MWHS band director Gretchen Chilson.

The festival was created to provide a collaborative educational setting to showcase instrumental and vocal musical talent in the conference. Band and choir directors from the WCC were asked to nominate their top students, who were invited to join together as one team and work toward a common goal. Student selections were made to ensure that all schools in the conference were represented, as well as to provide the correct number of students for each part.
Honor band members included MWHS seniors Robin Baker, Samantha Kummrow, Cecelia Linkert, Savanna Newell, Adrian Overbo and Emily Schneider; juniors Ryza Mendoza, Morgan Nester and August Schaefer; and sophomores Trevor Andrews, Sullivan Rotherberger and Braeden Trundle.
"In sports and other activities, these students typically compete against each other," said Chilson. "Hearing them come together as one to perform together is so special, and we hope they created memories to last a lifetime."
In a last-minute change, the WCC Honor Band was directed by Logan Campbell, director of large instrumental ensembles at Illinois Wesleyan University, where he is a visiting assistant professor of music and teaches courses in conducting and woodwind methods.
Dr. Erika Svanoe, conductor of the Augsburg Concert Band at Augsburg University, was originally scheduled to direct the honor band but had to cancel due to illness. Instead, honor band members met with Svanoe online in the band room during a break in the rehearsal schedule. The band also performed her piece "Category 4" in the concert.
Selected for the WCC Honor Choir were seniors Serenity Bownik, Connor Houston, Lydia Oliverson and Noah Wolf; junior Jack Hanson; and ninth-graders Cerisa Bray and Britta Elliott.
The choir performed five pieces under the direction of Dr. Therees Tkach Hibbard, an associate professor of music at St. Olaf College, where she teaches choral conducting, choral literature and voice. She also directs the Manitou Singers and St. Olaf Chamber Singers.
"Mound Westonka singers were well prepared for the WCC Honor Choir," said MWHS choir director Kelly Newell. "I am proud of the efforts and leadership they showed to their fellow singers from other schools."
Other participating high schools at the festival included Annandale, Dassel-Cokato, Delano, Glencoe-Silver Lake, Holy Family, Hutchinson, Litchfield, New London-Spicer, New Prague, Orono, Rockford Area and Watertown-Mayer. Students rehearsed all day, beginning at 9 a.m., for a late afternoon concert at the Westonka Performing Arts Center.
---