Return to Headlines
MWHS Names Triple 'A' Award Winners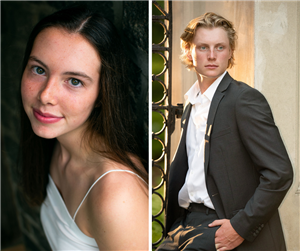 Katherine Johnson and Mitchell Krebsbach
January 2, 2021 — Mound Westonka High School has chosen seniors Katherine Johnson and Mitchell Krebsbach to represent the school at the regional Triple "A" Awards banquet. A recognition ceremony for the state-wide winners will be held in March. Sponsored by the Minnesota State High School League (MSHSL), the Triple "A" Award — Academics, Arts and Athletics — is a unique recognition program designed exclusively for Minnesota high school seniors who have excelled in the classroom, on the athletic field and in the fine arts.
Katherine Johnson was named an Advanced Placement (AP) Scholar with Honor by the College Board for her outstanding scores in her AP courses last year. She maintains a 4.0 grade point average (GPA) while maintaining a rigorous course load. She is enrolled in College in School (CIS) courses and is also a member of National Honor Society.
Johnson has been a member of the school's top auditioned band for four years. She has participated in both solo and large group music contests, where she earned a Superior rating. She is a member of the Band Council, a section leader and member of the media committee. A three-year member of the varsity speech team, Johnson qualified for the National Individual Events Tournament of Champions last year. She is also an accomplished artist and writer.
Johnson is a member of the varsity swim and dive team, where she strives for a personal best each time she is in the pool. Although swimming is a high school fall sport, Johnson swims year-round as a member of the swim club.
"I have never been as invested in the performance as I am in the journey, the process of creation," said Johnson, who said an individual concert, race or presentation doesn't define her but that the work leading up to that point is what impacts her as an individual.
"I have learned that life isn't made of polished performances," she added. "Life is instead made of hard work and hours upon hours of dedication. In order to better myself, it's all that extra effort behind the scenes that truly matters."
Band director Gretchen Chilson provided a letter of recommendation for Johnson. "There is no doubt that Katherine is a role model in our school community," said Chilson, who has worked with Johnson in many situations, both inside and outside of the school day. "In every instance, Katherine is a positive person, a polite student, a quiet leader and a kind friend."
Johnson plans to attend Indiana University, where she will study Cognitive Science and Animal Behavior. She plans to participate in band, art, writing classes and club swimming. Katherine is the daughter of Elizabeth and Geoff Johnson of Minnetrista.
Mitchell Krebsbach says his involvement in athletics has "greatly changed him" as a friend, brother and son. He is a three-year member of the hockey team and serves as captain this year. He received All-Conference recognition as a junior and is looking forward to a great season this year.
Krebsbach has also been a member of the varsity golf team since eighth grade. The team's top-ranked player, he received All-Conference honors two years and made two appearances in the state tournament.
Krebsbach is a well rounded, multi-sport athlete who takes many advanced level classes to challenge himself academically. He has also engaged in several fine arts classes, including drawing and ceramics.
"Over the years, I have acquired many great traits and lessons in athletics that are still with me today," said Krebsbach. "Without sports, my life would be completely different and I wouldn't be where I am today and know the people that I know today. I am beyond grateful to be a part of my sports teams."
Golf coach Andy Atkinson wrote a letter of recommendation for Krebsbach. "Mitch is an exceptional student athlete who uses intrinsic motivation in order to complete all necessary tasks and truly lead by example," Atkinson wrote. "He has a great work ethic in which he is committed to getting the job done and doing it well. I couldn't be more proud of what Mitch brings to the table, both as an a competitor and a teammate."
Krebsbach isn't decided on his plans for next year yet, but he does plan on playing junior hockey. Mitch is the son of Steven and Aimee Krebsbach of Mound.
About the Triple 'A' Award
Triple "A" Award recipients are selected through a multi-level process that involves member schools of the MSHSL, the League's administrative regions, and a special committee of educators, business leaders and members of the fine arts and athletics communities. Every member school of the League is invited to nominate one girl and one boy for the Triple "A" Award. Nominees must be seniors in high school, have a cumulative GPA of 3.0 or higher, participate in MSHSL fine arts and/or athletic activities, and comply with the MSHSL Student Code of Conduct.
---