Return to Headlines
Students Wear Orange for Unity Day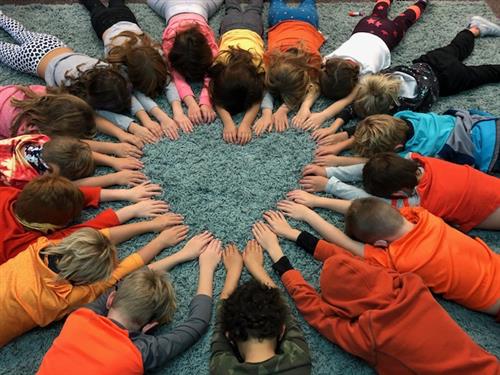 Click on the above image for more pictures from Unity Day across the district
October 28, 2020 — Students across the district stood up to bullying on Oct. 21 by wearing orange to celebrate Unity Day, a movement designed to bring everyone together to stand against bullying and be united for kindness, acceptance and inclusion. Each school in the Westonka district conducted activities in October aimed at spreading kindness, promoting unity and combating bullying.
Grandview Middle School students celebrated Unity Day by wearing orange and participating in anti-bullying lessons. Students were encouraged to join together in unity and create a sea of orange to mark the day.
Hilltop Primary School promoted unity and kindness throughout the month of October. Month-long activities taught students about the power of kindness, inclusion and not being a bystander to bullying behavior. Students wore orange and participated in a variety of activities in their classrooms to celebrate their day.
Students at Shirley Hills Primary School took part in a week-long series of bully prevention classes, where Principal Scott Eidsness and Positive Community Coordinator Scott Lhotka taught each grade level lessons on character education. The classes focused on recognizing bullying when they see it or experience it; Stop, Walk and Talk (anti-bullying techniques); and bully prevention. Students wore orange for Unity Day to show that they are "Together Against Bullying & United for Kindness, Acceptance and Inclusion."
Shirley Hills kindergartners wore orange and completed a variety of "Kind Kids" activities, including the "Wrinkled Heart" activity to remind them, "Before we speak, think and be smart. It's hard to fix a wrinkled heart." Megan Sterne's first-graders made hearts and talked about ways to make each other's hearts feel "full!" They discussed ways to be caring to their classroom "family" and created a caring chain.
At Mound Westonka High School, Student Senate created a video that encouraged all students to wear orange as a sign of unity and inclusion.
Student Senate also tie-dyed orange shirts for Unity Day. Senate used the platform to show their unity as a group that stands for acceptance, community, unity, inclusion and support for all at MWHS.
Unity Day was created by the PACER organization. More information can be found at www.pacer.org/bullying/.
---