Return to Headlines
MWHS Pep Band Raises Funds for Food Shelf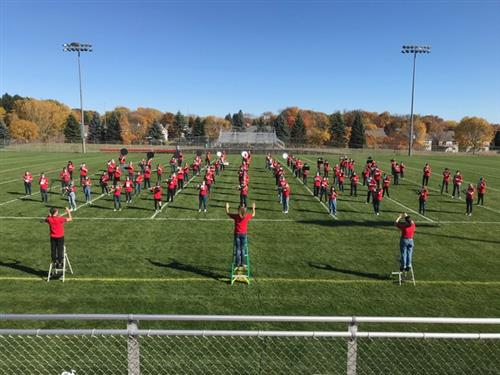 Click on the above image for more photos of the Pep Band Benefit Concert
October 20, 2020 — The Mound Westonka High School Pep Band played an outdoor benefit concert at Haddorff Field on October 10. Although the fourth annual event looked much different than in years past, it still raised over $1,500 for the Westonka Food Shelf.
Students wore personal protective equipment (masks with slits for mouthpieces), and instruments wore double-layered coverings over the ends. The audience was limited to one person per performer to assure safe distancing, but the Lake Minnetonka Communications Commission recorded the concert so it could be shared with people who were unable to attend.
Because of the hybrid schedule and the alternating block schedule days, most of the band performers had only met in-person for four rehearsals this year, in small "half-bands" at a time. Members of three different bands, Concert Band, Symphonic Band and Wind Ensemble, combined talents for the Pep Band performance, meaning each school rehearsal had included only one-seventh of the band members.
The musicians had never rehearsed all together until an hour before the concert. A total of 15 distanced learning students joined their co-performers for the concert after having never played with a band class at all this year.
"It was an absolute joy to have this many students playing together, for the first time since March 1," said band director Gretchen Chilson.
Chilson said it felt "very good" to continue the fall benefit tradition, even in these uncertain times. Westonka Food Shelf assistant director Heidi Schmidt shared a few words with the audience about the food shelf's work in the community. Prior years' benefits raised funds for a high school band program devastated by a hurricane, WeCAN and the Westonka Food Shelf.
Chilson directed the concert, assisted by pep band director and emcee Kevin Fuhrman. Three drum majors - sophomore Haley Kummrow, senior Simon Leonard and senior Jake Robertson – also conducted the concert.
View the concert on the LMCC website
---