Return to Headlines
Schools Conduct Holiday Drives for WeCAN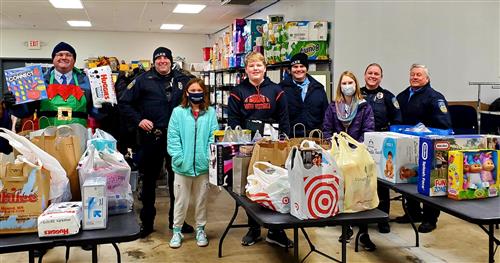 Members of the Orono Police Department helped deliver the donations from Grandview Middle School.
Click on the above image for more pictures from the schools' collection drives.
January 3, 2022 — Students at every school in the Westonka School District embraced the holiday spirit throughout December by collecting a variety of items for families served by the Western Communities Action Network (WeCAN).
"Thank you to all of the Westonka students, parents and staff who made donations to WeCAN this season," said WeCAN Executive Director Christopher Anderson. "We especially appreciate the wonderful assortment of personal care, cleaning supplies, paper products and toys that will support our families for months to come."
Shirley Hills Primary School put together an Amazon Wish List and had items delivered directly to the school. The school sent multiple emails to families and staff members during the two-week drive and families responded by contributing over $2,700 worth of personal care items, cleaning supplies and paper products.
Busch said, "We are so incredibly fortunate to have such generous families in our school!"
The Hilltop Primary School WeCAN drive was also a huge success. The Hilltop student council collected paper products, personal care products and cleaning supplies daily for two weeks. WeCAN representatives picked up the donations, totaling 353 items and $100 in gift cards on Dec. 15.
Student council advisor Melissa Abernethy said the students enjoyed collecting everyday items that are needed in the community.
With lights flashing and sirens blaring, several Orono Police Department squad cars left Grandview Middle School Dec. 17 on an important mission. Along with several local police officers and two Grandview students, the vehicles were filled with more than 713 toys, paper products, cleaning supplies and personal care items to be donated for distribution at WeCAN.
Joanna Martin's morning meeting class brought in the most donations and won a donut party. The names of all students who brought in items were put into a drawing to earn a chance to ride along and deliver the gifts to WeCAN. Chosen to participate were sixth-grader Izzy Hill and seventh-grader Tyrus Magnus.
Advisor Katie Seehusen thanked everyone who participated in the drive. She offered a special thank you to school resource officer Steve Sturm and other members of the Orono Police Department who helped deliver the gifts.
Led by Student Senate, Mound Westonka High School conducted a successful drive in December, collecting 548 personal care items and cleaning supplies along with $150 in gas cards and $300 in cash.
"This drive means so much to our community and to be able to donate so many products to our neighbors is just outstanding," said advisor Jamie Harms. "We are so proud of the leadership from Student Senate and our administration, but even more proud of the students and staff at MWHS for all their donations!"
Even the district's youngest learners took part in the holiday collection drive. Students at the Westonka Early Learning Center collected dozens of toys for youngsters to be used in WeCAN's Adopt-a-Family program and Holiday Shop.
For more information about WeCAN, visit wecanmn.org.
---