Return to Headlines
Westonka Students Celebrate Veterans Day 2021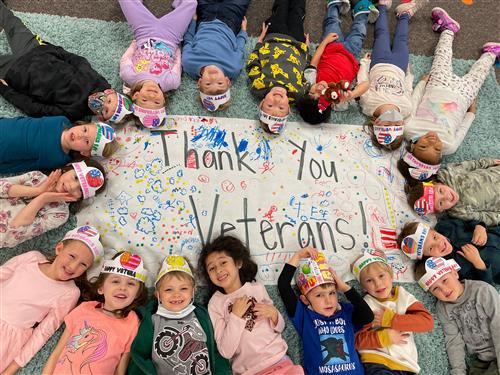 Click on the above image for more Veterans Day pictures throughout the district
November 18, 2021 — Students across the Westonka School District celebrated Veterans Day on November 11, honoring all those who have served our country in war or peace.
At Shirley Hills Primary School, kindergartners created stars with their families' help to honor veterans that they know. They also wrote letters and drew pictures of soldiers to send to current military members serving overseas, thanking them for their service. Students talked about veterans and why it is important to recognize their service. Shirley Hills first-graders' families sent in stories of veterans they knew and students made a star to honor them. Megan Sterne said her her first-graders were proud of the stories and loved sharing them. The stars are on display in the art room hallway.
Hilltop Primary School celebrated Veterans Day with a Zoom assembly featuring informational speaking parts by the Student Council. After the speakers, fourth-graders performed a percussion routine to "Semper Fidelis," followed by the humming of "America, the Beautiful" accompanied with sign language.
At Grandview Middle School, teachers integrated Veterans Day into the curriculum through selected videos, readings and discussions. "Students learn what a veteran is, what Veterans Day celebrates, and why it is important that we celebrate and honor veterans who are alive and those who have died," said Principal Christy Zachow.
In what has become an annual tradition, the Veterans Day Wall of Honor was assembled and displayed at Mound Westonka High School in November. Students, staff and parents were invited to submit stories of veterans in their families, which were hung as profile posters along the windows in the Student Commons. Student Senate also created a video.
"Student Senate members have done a tremendous job to showcase veterans in our community and related to our students and staff on our walls at MWHS," said Assistant Principal Marty Fischer. "What a cool honor for our veterans as we showcase their service to our country. And the number of posters for veterans keeps growing."
---