Return to Headlines
Students 'Stuff the Bus' for Westonka Food Shelf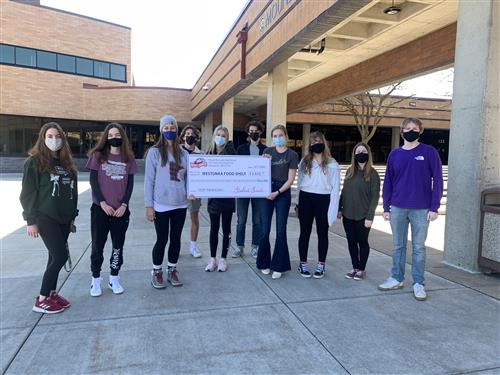 Student Senate led the Stuff the Bus drive at Mound Westonka High School
Click on the above image for more pictures from the drive
March 12, 2021 — Students throughout the Westonka School District took part in the annual "Stuff the Bus" event in March to benefit the Westonka Food Shelf. Although there wasn't technically a bus this year, each school used creative ways of encouraging donations of cash, food and other needed items for the food shelf. The event takes place each year during March, which is designated as FoodShare Month in the state of Minnesota.
Mound Westonka High School Student Senate saw another successful year of fundraising, collecting $2,522 in cash donations. MWHS ran a week-long drive collecting cash and checks before and after school at a curbside collection, during all lunches in school and through online donations. During lunch, students and staff could donate their money in returns for raffle tickets, which were turned in for a chance at multiple prizes, generously donated by local community members.
"Our Senate worked hard to put this drive together," said junior Hallie Dierbeck, Student Senate executive member and drives committee chair. "We didn't know if we would be able to pull it off this year, but thanks to the hard work of our leaders and the generosity of our community we are so proud of how it turned it out!"
Lucky prize winners included Terry Sommerville (Amazon Echo); Peyton Schmidt (mini-fridge and mini waffle maker), Christina Shanley (one year MWHS parking pass), Sabrina Kaganovsky (one year WAC membership), Mario Moore (LED smart TV) and Reese Vanderwilt (Apple AirPod Pros).
"We feel so thankful to have been able to donate what we did this year, especially since we know that the last year has been really hard on families," said senior Jadyn Rice, Student Senate vice president. "Being able to give back to our food shelf and knowing how much it will help our community is very humbling. We are so proud of MWHS!"
Grandview Middle School students collected food for the food shelf for two weeks, taking in a total of 498 items, along with $758 in cash. New this year was an option to donate online directly to the food shelf on behalf of each individual school. Some of those donations may not be included in the totals. Advisor Katie Seehusen thanked everyone for the contributions.
Hilltop Primary School's student council surpassed their goal of 800 items by collecting 1,419 canned and boxed food items. "The Hilltop community went above and beyond to help those less fortunate," said advisor Sherry Anderly.
At Shirley Hills Primary School, students, staff and families collected 783 items plus a cash donation of $476. Principal Scott Eidsness was proud of his students' contributions and thanked everyone who participated.
The Westonka Food Shelf is located in the Grace Family Center adjacent to Our Lady of the Lake Catholic Church in Mound. For more information or to schedule an appointment, please call the food shelf at (952) 472-5599.
---