Return to Headlines
Students Host Collection Drives for WeCAN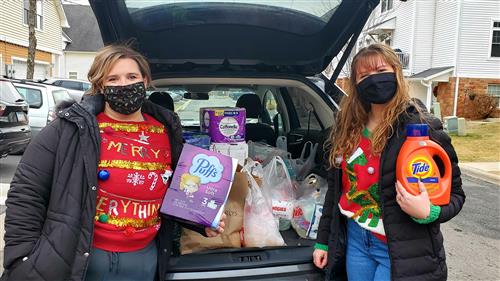 Senate advisor Jamie Harms and co-president senior Amelia Pettitt.
Click on the above image for more photos from the collection drives
January 4, 2021 — December is traditionally a time of giving for Westonka students and this year was no different. Despite the fact that students were involved in distance learning this year, students and staff at each school found a way for their schools to participate in the annual holiday drive for families served by Western Communities Action Network (WeCAN).
Instead of collection drives within their buildings, schools compiled wish lists, scheduled drop-off days and collected items at off-site locations. The community response was overwhelming, as students collected personal care items, diapers, cleaning supplies, toys and lots of cash. Additionally, many staff members participated in the Adopt-a-Family program and made personal donations as well.
"We are overwhelmed with gratitude for all of the generous donations to WeCAN this season," said Executive Director Christopher Anderson. "We especially appreciate the community's response to each school's individual efforts."
Shirley Hills Primary School put together an Amazon Wish List and had items delivered directly to the school. Kindergarten teacher Beth Hausladen came up with the idea, and social worker Hanna Busch coordinated the effort by compiling a list and collecting the packages as they came in. The school sent multiple emails to families and staff members during the two-week drive and families responded by contributing over $1,800 worth of personal care items, cleaning supplies and paper products.
Busch said, "We are so incredibly fortunate to have such generous families in our school!"
The Hilltop Primary School student council students created a video asking all the students and families at Hilltop to donate personal care items for those in need in our community. Families were invited to drop off their items when they came to school after Thanksgiving to pick-up their children's distance learning materials. WeCAN received hundreds of items, along with nearly 100 pounds of non-perishable food.
"It was pretty exciting to see so many donations, especially considering our students were in distance learning," said advisor Melissa Abernethy.
Grandview Middle School staff members compiled an Amazon list and WeCAN received multiple direct deliveries of toys, diapers and personal care items. Grandview families also donated over $1,050 in cash.
Student council advisor Katie Seehusen acknowledged that despite the challenges this year, Grandview was happy to find a way to conduct the annual drive.
The Mound Westonka High School Student Senate created a collection opportunity by partnering with Jubilee Foods and staffing an outdoor table for multiple shifts during a two-week drive. The group collected nearly $1,500 in cash and grocery cards, along with dozens of personal care items and paper products.
"It's just outstanding that we were able to donate so many products to our neighbors through this important drive," said advisor Jamie Harms. "We are so proud of the leadership from Student Senate, but even more proud of the community for supporting our efforts with their donations."
For more information about WeCAN, visit wecanmn.org.
---