Return to Headlines
Westonka Foodies Offer Free Summer Meals
UPDATED July 6, 2020 — For most kids, summer means carefree days. But for some kids, no school means wondering where their next meal is coming from. Several local organizations are teaming up this summer to make sure kids have access to healthy and nutritious meals.
The Westonka Foodies from the Westonka School District will be hosting a Free Summer Meals program again this year. Breakfast and lunch meals will be provided Mondays through Fridays during the summer. Breakfast will consist of a grain or grain and protein plus a juice and milk. Lunch will consist of a grain, protein, fruit or vegetable, and a milk. Menus will not be posted to allow the cooks flexibility in the meals each day.
Beginning July 7, curbside meal pick-ups will be available Monday-Friday at the Hilltop Main Entrance from 11 a.m. to 12 p.m. and at Mound Westonka High School in front of the Performing Arts Center from 11:30 a.m. to 1:30 p.m. Both breakfast and lunch will be handed out at the same time.
The district will also make deliveries on the following schedules:

District White Box Truck (Monday-Friday)
| | |
| --- | --- |
| Stop Location | Time Frame |
| Hermitage Trl & Stonebridge | 11:05 - 11:15 |
| Woodland Cove Clubhouse | 11:25 - 11:35 |
| Hunters Trl & Glacier Rd | 11:45 - 11:55 |
| Turtle Creek Blvd & Turtle Rd | 12:02 - 12:12 |
| Highland Dr & Fox Trl | 12:15-12:25 |
| Surfside Park | 12:40 - 12:55 |
District Community Ed Pick-Up Truck (Monday-Friday)
| | |
| --- | --- |
| Stop Location | Time Frame |
| Balsam Rd & Spruce Rd | 11:30-11:40 |
| Kids Core (St. John's Parking Lot) | 11:50-12:00 |
| 3 Points & Gull | 12:15-12:30 |
| Triangle Park (Tuxedo Blvd & St. Mary's) | 12:40-12:50 |
| Bradford Ln & Wilshire Blvd | 12:55-1:05 |
WeCAN Van (M, Tue, Th, Friday - None on Wed)
| | |
| --- | --- |
| Stop Location | Time Frame |
| Jennings Cove & E Cove Ln | 11:00-11:05 |
| N Shore Dr & Red Oak Ln | 11:07-11:12 |
| N Arm Dr & Loma Linda N | 11:14-11:19 |
| Sugar Mill Ln & Robin Ln | 11:30-11:40 |
| Halstead Ln & Deerwood Dr | 11:45-11:55 |
Please note that these times are approximate and will be updated online as needed. Please check the Westonka Foodies website frequently for updates.
No registration or sign-up is required for this meal program. The Westonka Foodies encourage all families with children under 19 years old to participate in the summer meal program and offered some good reasons to do so:
They are FREE
The program extends your food budget and saves you time preparing breakfast and lunch
It's comforting and familiar to your kids to have food from school
It's confidential and not just for low-income people
You're helping the Westonka Foodservice program to stay financially afloat
You're helping the Westonka Foodservice program employees stay employed throughout the summer
The USDA (United States Department of Agriculture) is covering the cost of these meals
You're not taking food away from someone who needs it more
"For too many children, the end of the school year means an end to the free meals they depend on throughout the year, but summer nutrition programs support fighting hunger for young people," said Laura Metzger, Westonka Schools' Director of Food and Nutrition Service. "We're happy to provide the nutrition that children need to fuel their day."
WeCAN Kids Food Bags
In addition to the school program, WeCAN (Western Communities Action Network) will be offering the Kids' Food Bag Program again this summer. Families in need are welcome to take advantage of curbside pick-up at the WeCAN office at 5213 Shoreline Drive in Mound each week during the summer to get a bag of kid-friendly food for each school-aged child in their family. The Kids' Food Bag Program will begin June 1. Curbside pick-up is available Monday - Thursday, 9 a.m. to 4:30 p.m. No appointment or registration is necessary.
For more information, contact WeCAN at (952) 472-0742 and ask about the Kids' Food Bag Program. WeCAN is accepting donations of "kid-friendly" food for the program like cereal, macaroni and cheese, soup, crackers, fruit cups, juice boxes and healthy snacks.
For more information on the school meal program, contact Laura Metzger at Westonka Schools, (952) 491-8084.
Families in need of additional food resources should visit the Westonka Food Shelf at 2443 Commerce Boulevard in Mound or call (952) 472-5599.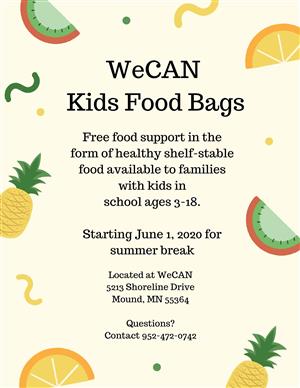 ---