Return to Headlines
Long-time Westonka Staff Honored for Years of Service
May 21, 2020 — Due to the statewide school closure and the threat of COVID-19, the annual Westonka Public Schools Retiree and Years of Service Banquet was canceled this year. Forty-two Westonka employees would have been honored May 6 at the Lafayette Club for their years of service to the school district.
Superintendent Kevin Borg and the Westonka School Board would like to recognize and thank the following long-time staff for their dedicated service to Westonka Public Schools.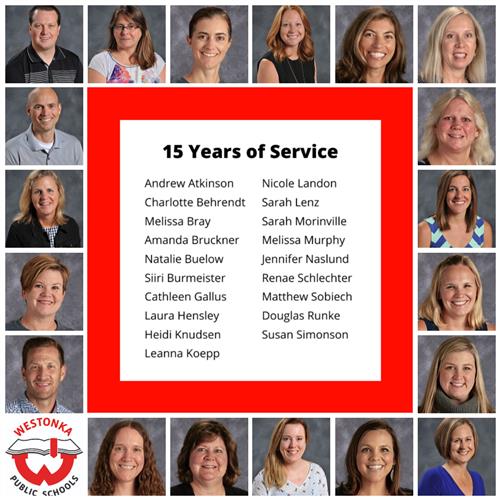 Recognized for 15 years of service
Andrew Atkinson, Charlotte Behrendt, Melissa Bray, Amanda Bruckner, Natalie Buelow, Siiri Burmeister, Cathleen Gallus, Laura Hensley, Heidi Knudsen, Leanna Koepp, Nicole Landon, Sarah Lenz, Sarah Morinville, Melissa Murphy, Jennifer Naslund, Renae Schlechter, Matthew Sobiech, Douglas Runke and Susan Simonson
Recognized for 20 years of service
Jennifer Bormes, Karen Boser, Corey Bulman, Molly Carlson, Jackie Davis, Mara Drill, Lissa Harvey, Christopher Leclaire, Jessica Lunski, Lisa Matson, Colleen Mitchum, Merita Moen, Carol Pomeroy, Brent Reinbold, Theresa Schmidt and John Wardlow
Recognized for 25 years of service
Kristin Wallace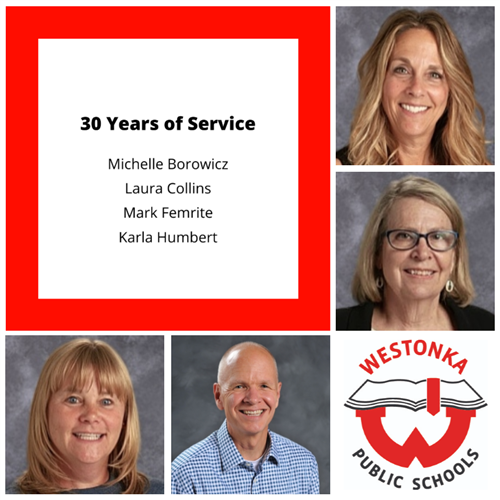 Recognized for 30 years of service
Michelle Borowicz, Laura Collins, Mark Femrite and Karla Humbert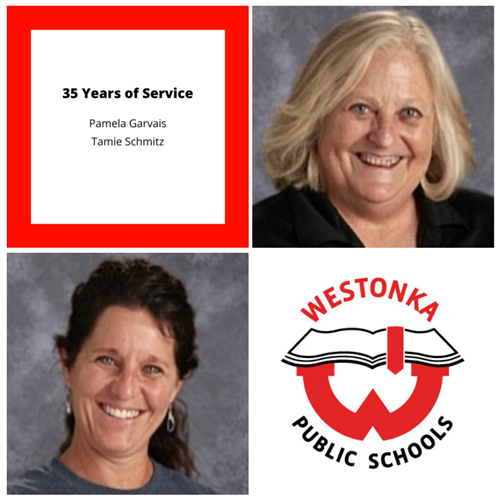 Recognized for 35 years of service
Pamela Garvais and Tamie Schmitz
Each of the honorees will receive a special gift to commemorate their years of service. These gifts are made possible thanks to the following generous sponsors:
4.O School Services
Marsh & McLennan Agency
Musser Environmental Consulting
Loffler Companies
Dashir Management Services
School Management Services
Rupp, Anderson, Squires & Walspurger, PA
Congratulations to all of this year's honorees and thank you for your service to Westonka Schools!
In addition to the years of service honorees, nine Westonka Public Schools retirees, the Westonka Teacher of the Year and the 2020 Ann Bremer White Hawks Award winners would have also been honored at the May 6 banquet. Watch for a social media announcement on Wednesday, May 27, of the 2020 Westonka Teacher of the Year. The district's 2019-2020 class of retirees will be highlighted in a special video presentation the week of June 1. The Ann Bremer White Hawks Awards will be presented at a home football game next fall.
---