Return to Headlines
Grandview Student Achievements Recognized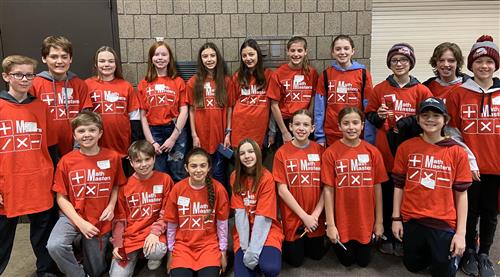 Grandview Math Masters
Click on the image above for more pictures of Grandview arts and academics award winners
May 14, 2020 — Each year, the Westonka School Board recognizes students from all grade levels at the May board meeting for their achievements in arts and academics. Although the personal recognition was not possible this year, the School Board and the district still want to recognize these students for their outstanding accomplishments. This week's recognition focuses on Grandview Middle School students.
"The board is going to miss personally seeing these outstanding students this year but we want them to know that we are very proud of what they have accomplished," said School Board Chair David Botts. "Congratulations to all the award winners."
View the list of Grandview Middle School Arts and Academics Award Winners.
Math Masters is a statewide competition for fifth- and sixth-graders to showcase their math problem solving skills. There is one round of Individual Facts to show their quick recall of basic facts and expressions using order of operations. Next there are three rounds of Individual Problem Solving plus a tiebreaker round. The individual scores are tallied for the individual competition and also used for the team score.
In the team competition, there are three timed rounds of Team Problem Solving where the students work in teams of five to solve problems. This year's top team took fourth of 24 teams at the Math Masters competition. All individuals placed in the top 35 of 120 competitors.
"This group worked hard and scored very well together as a team," said math teacher Brent Reinbold. "Great job, guys!"
The Continental Math League, part of the GATES (Gifted and Talented Education Services) program, is designed to both maximize student opportunities to participate and to improve their problem solving capabilities. Students participate with other students on the same grade level from schools all over the United States during regular school hours.
Several Grandview artists were featured in the Youth Art Month exhibit at the Westonka Library. Sixth-grader Britta Elliott and fifth-grader Annika Hagen were selected for the State Girls Honor Choir.
Seventh-grader Rohan Nella was overall Grandview spelling bee champion for the second consecutive year and qualified for the Metro ESCU Regional Spelling Bee. Glenda Mejorada was the sixth-grade champion and Semus Dedon earned the fifth-grade title. In addition to improving students' spelling skills and increasing their vocabularies, spelling bee participation provides valuable experience in developing poise—a necessary skill for success in public speaking, performing arts and athletics.
"We were really proud of all the participants this year!" said assistant principal Nick David.
Future Problem Solving (FPS) is open to sixth-graders at Grandview. The mission of the FPS Program is to teach a process for identifying and resolving problems in an innovative and timely manner with respect to our situation today and our world tomorrow. Coach Rebecca Matthews said, "Problem solving skills are key and FPS teaches participants how to think systematically about problematic situations, gather information to understand the situation, and to evaluate multiple solutions in order to best address the situation."
Matthews' favorite part of the process is the Presentation of Action Plan, where students creatively act out the problem and perform their best solution with the limited supplies they repurpose to create props. One Grandview team finished in second-place, only one point behind first-place, in the Presentation of Action Plan at regionals in St. Cloud on February 1. Another Grandview team received a special recognition award for their focused underlying problem and well-developed action plan. Matthews says she looks forward to working with the next class in the fall.
Future City starts with a question: "How can we make the world a better place?"
To answer the question, students research, imagine, design and build cities of the future that showcase their solution to a citywide sustainability issue. Topics include issues like public space, storm water management, urban agriculture and green energy. This year's topic was "Clean Water: Tap into Tomorrow." Students from around the state participate in this one-of-a kind competition that explores the varied careers and opportunities available in engineering. Grandview students have the opportunity to participate in the Future City competition through a full semester course.
Coach Josten Coleman said he was proud of his students. "Although we didn't win any awards this year, our kids worked extremely hard and learned a lot throughout the process," said Coleman. "We have a creative group of kids that thought outside the box for possible futuristic solutions that could enhance the world we are living in."
Award winners from MHWS will be recognized at a later time. Hilltop and Shirley Hills Primary School winners can be viewed here.
---