Return to Headlines
Student Artwork Featured in Local Art Exhibits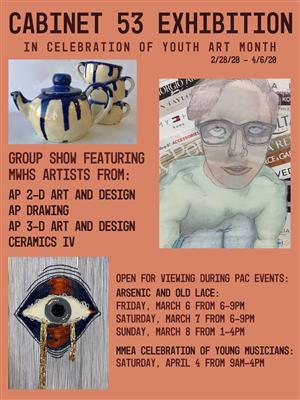 Click on the above image for more pictures from the Cabinet 53 Exhibition
March 4, 2020 — Every year Westonka Public Schools art teachers choose exemplary student artwork to display in a public space during Youth Art Month in March. The Cabinet 53 Exhibit, featuring art pieces by Mound Westonka High School students, will be located this year in the Westonka Performing Arts Center. Artists from Grandview Middle School, along with Hilltop and Shirley Hills primary schools, will be featured in an exhibit at the Westonka Library.
Cabinet 53 Exhibit
The group show, featuring MWHS advanced art students, will be open for public viewing on the following dates to coincide with performances of "Arsenic and Old Lace" in the PAC: Friday, March 6, 6 to 9 p.m.; Saturday, March 8, 6 to 9 p.m.; and Sunday, March 8, 1 to 4 p.m. The show will also be open on Saturday, April 4, 9 a.m. to 4 p.m. during the MMEA Celebration of Young Musicians.
"We are so delighted with the sophisticated display of these students' work in our very own PAC," said MWHS art teacher Laura Hensley. "Their hard work has paid off, and this is a wonderful way for our department to celebrate the state of Minnesota's Youth Art Month!"
Students whose work is featured in the exhibit include sophomore Austin Alaspa; juniors Ryan Allen, Charlie Bledsoe, Hannah Bortnem, Austin Henderson, Carly McGown, Tavia Snyder, Payton Stein and Rose Wolf; and seniors Ivy Anderson, Trinity Bielke, Grace Biglow, Rowan Fischer-Hoeft, Emilene Loehr, Dylan McManus and Sonja Hoversten.
In addition to this local exhibit, over three months, MWHS students will have had work on display in the Minnesota Scholastic Art Awards Gold Key Exhibit at the University of Minnesota and in the Art Educators of Minnesota Youth Art Month Exhibit at the State Capitol, and they will be competing at the MSHSL 2AA Sections Visual Arts Festival in Mankato in April.
Keep up with all the MWHS art department's happenings by following Laura Hensley @Lhalleyhensley and Sara Strother @MsStrother_MWHS on Twitter or by searching #MWHSart, #WestonkArts, #Cabinet53 and #mwhsFstops.
Westonka Library Exhibit
During the month of March, Hilltop, Shirley Hills and Grandview artwork will be displayed at the Westonka Library during regular open hours, Monday and Wednesday, 12 to 8 p.m.; and Tuesday, Thursday, Friday and Saturday, 9 a.m. to 5 p.m.
Representing Hilltop Primary School are artworks by kindergartners Leah Haefle and Alice Weber; first-graders Logan Courneya and Wesley Lewis; second-graders Jordin Kimbrel and Kate Kromenhoek; third-graders Emme Gustafson and Odin Thompson; and fourth-graders Emma Butler and AJ Richardt.
"We are so excited to honor our students' hard work and artistic talent!" said Hilltop art teacher Klair Hans.
Shirley Hills artwork is exhibited by kindergartners Emma McKinney and Colton Elliott; first-graders Zoey Heier and Nolan Marsten; second-graders Amelia Fruit and Max Kliebenstein; third-graders Caden Sayler and Trgyve Decker; and fourth-graders Emma Leger and Kate Roche.
"These students were chosen because they show exemplary art skills and effort," said Shirley Hills art teacher Ashley Clemensen.
Grandview artists include Brooklyn Reinke, Peyton Schmidt, Brenden Sexton, Suzie Marth, Claire Slavik, Emilie Andrev, Kylee Christ, Lily Kiner, Ella McClellan, Jamison Reinke, Charlotte Swanson and Vayda Bosma.
"We're happy to promote and recognize our student artists during this event," said Grandview art teacher Annmarie Umland.
Westonka Public Schools are grateful to the Westonka Public Library for its support of Youth Art Month.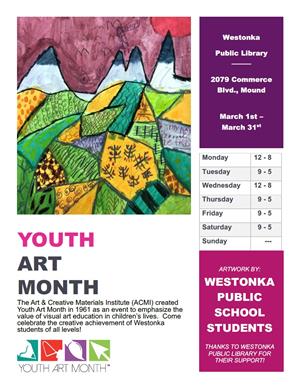 Click on the above image for more pictures from the library exhibition
---