Return to Headlines
Jable Earns 'Best in Show' at State Art Exhibition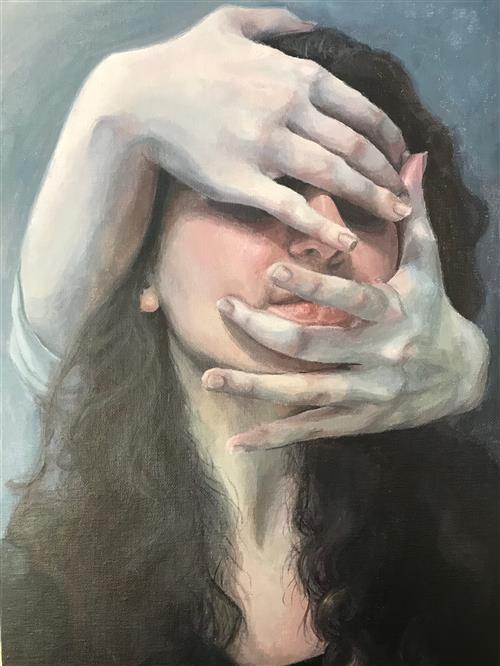 'Gripped in Fear' by junior Maya Jable won Best in Show.
Click on the above image for more pictures from the State Capitol Exhibition
March 4, 2020 — The Westonka Art Department is proud to announce that two students have been awarded for their achievements in the Youth Art Month State Exhibition. Mound Westonka High School junior Maya Jable won Best in Show in the statewide competition for her piece, "Gripped by Fear." Additionally, Hilltop Primary School fourth-grader Drew Johnson earned Honorable Mention for his drawing, "Owl."
Student artists from Hilltop Primary School, Grandview Middle School and Mound Westonka High School participated in the exhibition, a long-standing tradition of the Art Educators of Minnesota to recognize and promote the achievements of student artists throughout the State of Minnesota. Each year, art educators from around the state select their students' most exemplary works of art to be on display at the Minnesota State Capitol. All students entered in the competition had their art displayed at the Capitol Feb. 17 - 29, culminating in an awards ceremony on Feb. 29.
"I am so unbelievably proud of Maya and excited that her hard work, commitment to artistic vision and dedication to her practice was recognized two weeks in a row with two major awards!" said MWHS art teacher Laura Hensley. For her efforts, Jable received $500 in art supplies from Sargent Art, and MWHS received $1,000 in art supplies on her behalf.
Jable's award comes on the heels of winning a Gold Key and a full-ride scholarship to MCAD's pre-college summer program in the Minnesota Scholastic Art Awards competition in January. At the Feb. 29 awards ceremony, Jable gave a speech on "Why Art Matters to Me."
Jable explained the meaning behind her winning painting:
In 'Gripped by Fear,' I wanted to convey my fear of not being able to understand a situation or communicate my thoughts and feelings. The hand placed over my eyes represents both my sight and understanding being taken away. The hand placed over my mouth symbolizes loss of communication. Both of these contribute to the fear of being trapped within myself. The use of color and composition are meant to create an unsettling feeling for the viewer.
Fourth-grader Drew Johnson, who won Honorable Mention for his chalk pastel owl, said he was surprised when his art was chosen. "When I saw it at the Capitol I couldn't imagine it was there!" Johnson said.
Johnson won a ribbon and a set of art supplies, which made him feel good, and proud of himself. "If I could give advice to other kids, it would be to just do the best you can do," he added.
"I couldn't be more proud of our Hilltop and Westonka students—this is always a tough competition, and every year Westonka makes a great showing," said Hilltop art teacher Klair Hans, who offered a big thank you to the Art Educators of Minnesota for hosting this event in such a beautiful, prestigious location.
Other participants in the exhibition included senior Grace Hanson; Grandview seventh-graders Amber Sanchez McConnell and Taryn Peglowl and sixth-grader Sydney Carlin; and Hilltop fourth-grader Brooklyn Staska, third-grader Louisa Johnson and first-grader Isla Colhour.
"Congratulations to all of our motivated Westonka artists who persist through creative challenges and show up every day ready to learn," added Hans.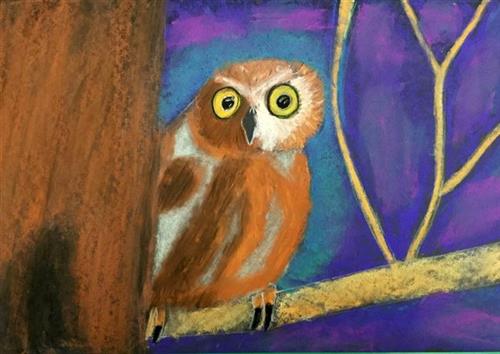 'Owl' by Hilltop fourth-grader Drew Johnson received Honorable Mention
---