In-Person Learning
In the in-person learning model, students attend school in person 5 days a week, Monday-Friday.

Schools will create as much space between students and teachers as is feasible during the day, but are not held strictly to enforcing 6 feet of social distancing. Westonka schools will follow all requirements outlined by the Minnesota Department of Health (MDH) and Minnesota Department of Education (MDE).

Students will have high-quality, research-based and engaging teacher-led instruction every day. The first few weeks will have a strong focus on building relationships, identifying learning gaps, and helping students feel engaged and connected to their school.

Primary Schools:

Staff will give extra attention to helping young students adjust to being back in school, interacting with friends and strengthening academic skills.

Middle School and High School:

Students will experience the best of blended learning instruction that incorporates direct teacher instruction enhanced by the use of technology tools like Schoology, our grades 3-12 learning management system, to engage students and deepen the learning of the content in their classes
Distance Only Option
We understand that fully in-person or hybrid learning may not be what's best for every student and family. A Distance Only Option will be available to enrolled students who may be medically vulnerable or who are otherwise unwilling to return to in-person learning.

Families choosing 100% distance learning through Westonka Public Schools will be asked to commit to this model on a quarterly basis. Distance Only registration for quarter 3 is open in Skyward Family Access Dec. 17-Jan. 6.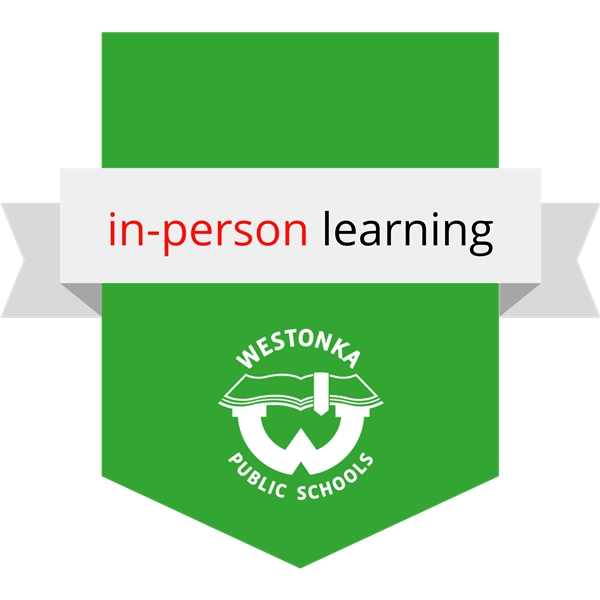 Health & Safety Protocols
Health and safety of students and staff is at the forefront of our work, and Westonka Public Schools continues to utilize the most up-to-date guidance from the Centers for Disease Control and Prevention (CDC) and the Minnesota Department of Health (MDH).

Recommendations for safety protocols are expected to be continuously evolving and the protocols below will be modified as needed based on current guidance, research and best practices.
Prevention Practices
Personal Protective Equipment (PPE)
School Safety Practices
District COVID-19 Health Coordinator

School COVID-19 Coordinators

Social Distancing Reminders

Healthy Hygiene Reminders

Alternate Learning Spaces

CARES Act Funding for Additional Safety Measures